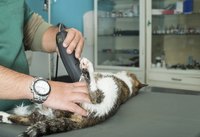 Cats can be infested with the type of lice called Felicola subrostratus. Lice found on cats is species specific and cannot infest humans. Nor can human lice infest cats. These lice are about half the size of a grain of rice, white, oval-shaped, wingless and have six legs.
Why Lice are Particularly Bad
Lice are usually found in sick, old or feral cats. Lice are more common in city dwelling cats than in the country. Because lice feed on your cat's skin and blood, in severe cases, a lice infestation can cause anemia. More often than not, your cat will be miserable should he be infested with lice.
Determining if Your Cat is Infested with Lice
If you suspect lice, you will have to determine if your cat is infested. To do so, look at your cat's coat. It may be dull, dry and flaky due to the infestation. Your cat may be itchy due to the lice. He may lick his skin to the point of irritation, or even bleeding. If your cat is allergic to lice, he may have swelling and rashes where the lice have irritated his skin. You can see lice on your cat as well as the eggs, known as nits, attached to his fur. Lice look like dandruff that move. Lice are transmitted through direct contact or contact with infested bedding, toys or grooming items.
What to Do if Your Cat is Infested with Lice
If your cat is infested with lice, you should seek your veterinarian's advice for treatment. There are many good shampoos made for cats that will kill lice as there are several topical flea medications that will work on lice as well. It is important to use shampoos and medications made for cats as medications made for other animals can be toxic to cats. If your cat has a lot of mats in his coat, you may have to shave him to get at the lice. Likewise, if your cat's coat is full of nits, you may have to shave your cat to eliminate the nits so that the eggs won't hatch on him.
Preventing Lice Infestation
Your cat can contract lice from other cats. Lice generally do not live long without a host and therefore your cat is unlikely to contract lice from his environment unless there has been an infested cat nearby. Unfortunately, nits and lice can live in bedding and other places for up to seven days, which means if you have a cat with a lice infestation, you will need to wash in hot water all the bedding and toys your cat has come in contact with. Clean your home, including vacuuming. To prevent your cat from contracting lice from other cats, keep your cat indoors.