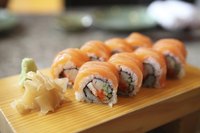 A heart-healthy meal plan should include fish -- the American Heart Association recommends two 3.5-ounce servings per week. Opting for sushi helps you incorporate more variety into your diet while meeting your recommended fish intake. As long as you make smart choices and practice portion control, you can likely incorporate sushi into a heart-healthy diet. If you have high cholesterol or heart disease, however, always check with your doctor before making changes to your diet.
Cholesterol 101
While your body uses cholesterol for certain physiological functions, like making hormones, you can make it on your own and don't need to get cholesterol from food. For most people, dietary cholesterol -- the type found in food -- has only a moderate impact on blood cholesterol levels. People who are sensitive to dietary cholesterol, however, can experience a significant increase in their blood cholesterol levels after eating cholesterol-laden foods. For optimal heart health, the American Heart Association recommends limiting your cholesterol intake to a maximum of 300 milligrams daily. If you have high cholesterol, diabetes or heart disease, lower your intake to 200 milligrams.
Cholesterol in Sushi
The exact proportions of ingredients in sushi differ from restaurant to restaurant. The fish used to make sushi, however, typically contains a moderate amount of cholesterol. For example, a 1-ounce serving of bluefin tuna contains just 50 milligrams of cholesterol, while yellowfin supplies 72 milligrams. An ounce of eel in your sushi ups your cholesterol intake by 35 milligrams, while yellowtail and salmon both contain 15 milligrams of cholesterol per ounce. Go for vegan or vegetarian sushi rolls that don't contain meat or animal products as a cholesterol-free option.
Sushi's Fat Content
If you're worried about your cholesterol levels, you also need to pay attention to your saturated fat intake because this fat has a harmful effect on your blood cholesterol. Fortunately, fish tends to be low in saturated fat and instead offers beneficial unsaturated fatty acids. A 1-ounce serving of eel, for example, contains 3 grams of total fat but less than a gram of saturated fat, while raw salmon or yellowtail each contain less than half a gram of saturated fat per ounce.
Healthy Selection Tips
Keep your sushi as healthy as possible by avoiding sodium-laden add-ons and foregoing refined grains. For example, instead of getting your sushi made with the more traditional white rice -- a refined grain -- ask for your roll to be prepared using whole-grain brown rice. Avoid fried sushi, like tempura rolls. Not only does frying add calories, but fried foods also tend to contain trans fats, the worst type of fat if you're worried about your cholesterol. Finally, don't season your sushi with soy sauce, a significant source of sodium, but instead savor the food's natural flavor. While sodium doesn't affect cholesterol, a high-sodium diet may boost blood pressure, which can negatively affect your cardiovascular health.