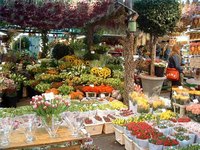 Flower shops sell fresh flowers and create flower arrangements and bouquets for purchase. Flower shops also often sell live plants, small gifts, greeting cards and floral accessories, such as pots and vases. Some flower shops also design flower arrangements and bouquets for special events, such as weddings and funerals. Most flower shops are busiest for special occasions such as Valentine's Day and Mother's Day and during the spring wedding season.
The Facts
There are more than 20,000 flower shops in the United States. Average sales for an individual shop tops $300,000 annually, though this number varies greatly. While flower shops around the country sell virtually every type of cut flower imaginable, 39 percent of flower sales in the U.S. are red roses, the majority of which are sold around Valentine's Day.
Benefits
Owning a flower shop can be a very rewarding career. If you manage your own shop, you can control your hours and design the look and feel of the shop. Owning your own flower shop also has its benefits if you are a creative person. You'll have the opportunity to design your bouquets and arrangements and manage the advertising, marketing and branding of your shop.
Considerations
In the last decade, the number of flower shops in the United States has begun to dwindle because of several factors. It has become increasingly convenient and inexpensive for consumers to purchase flowers online, which can be shipped almost anywhere for a relatively low cost. More people are purchasing flowers at grocery stores and big-box stores, which can often offer significant discounts over traditional flower shops.
Types
In recent years, florists have branched out to create flower shops that have a unique design style and offer additional items. Some contemporary flower shops work exclusively in high-style arrangements, which tend to be sparse, linear and carefully designed, while still others work in Japanese or English techniques. Some flower shops have distinctive design features, such as using a certain flower as a filler, using only a certain type of vase, or keeping bouquets tightly arranged.
Many successful flower shops double as plant and gift shops. Such retailers may offer greeting cards, live plants and succulents, small knicknacks, stuffed animals and helium balloons.
Expert Insight
Tom Taulli, a writer for Forbes.com and author of several books on finance, has written extensively on the fiscal potential of individual flower shops. Taulli stresses the importance of location as a major factor in the success of flower shops in America. Considerations include proximity to big-box stores or grocery stores that sell flowers, foot traffic and accessible parking.