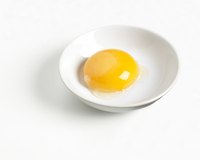 Of the two main types of blood cholesterol, high-density lipoprotein is considered good because it helps remove cholesterol from your body. On the other hand, low-density lipoprotein is considered bad because it brings cholesterol to your cells and arteries and increases heart disease risk. You get some cholesterol from your diet, but your body makes all the cholesterol it needs.
Dietary Guidelines
You don't need to get any cholesterol from your diet. The scientific advisory panel for the 2015 Dietary Guidelines for Americans recommends no longer advising people to limit their dietary cholesterol, however. In the past, people were advised to consume no more than 300 milligrams per day of cholesterol. Research shows that most people don't experience increases in cholesterol due to dietary cholesterol intake, and even in those who do, the increase is cholesterol includes both HDL and LDL, so the risk for heart disease isn't increased, according to a review article published in Current Atherosclerosis Reports in November 2010.
Other Dietary Considerations
If you're worried about your blood cholesterol levels, limit the amount of saturated and trans fats you eat, and increase your physical activity so you can lose any extra weight you are carrying, recommends the National Heart, Lung and Blood Institute. Dairy products, fried foods, baked goods, meats and processed foods are sources of saturated fats, and processed and deep-fried foods sometimes contain trans fats.