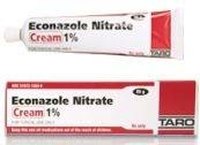 Patients use the topical cream econazole nitrate to treat fungal infections. The medication begins to work quickly, but patients need to use econazole for the entire prescribed period to get the maximum therapeutic benefit. Side effects from econazole use occur infrequently and tend to be mild.
What It Treats
Econazole nitrate cream has U.S. Food and Drug Administration-approved indications for treating ringworm, or tinea, infections of the feet, topmost layer of the skin, groin and body. The medication also can be used to treat cutaneous candidiasis, a yeast infection of the upper layers of the skin. Doctors may also prescribe econazole to patients who have other types of external ringworm or fungal infections.
Applying Econazole
Patients using econazole nitrate to treat ringworm infections should complete cover the affected areas of their body with a thin layer of the cream once each day. Two applications of econazole nitrate cream each day are needed to clear up candidiasis. Patients should use econazole for at least two weeks to ensure that the infection has been completely eliminated.
Side Effects
The only side effects from the use of econazole nitrate cream have involved irritation of the skin. According to the medication's prescribing information, 3 percent of patients felt a burning sensation and noticed more redness, swelling and itching than they previously had.
Warnings/Precautions
You must keep econazole nitrate cream out your eyes. Also, stop using econazole nitrate if you experience severe burning or rash, as these are signs of an allergy to the medication or one of the ingredients in the cream.
Available Products
As of fall 2009, no company produced a brand name econazole nitrate cream for the U.S. market. Ortho Neutrogena had at one time sold econazole under the name Spectazole. Generic equivalents of Spectazole are still sold by Altana, Perrigo, Prasco and Taro.