The duties of a CNA (certified nursing assistant) and an HHA (home health aide) are similar. There are subtle differences, however, in the jobs and the training required. It is important to know these differences to receive the proper training to meet career goals.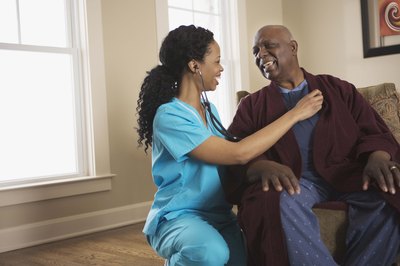 Job Descriptions
Both CNAs and HHAs help patients with bathing, dressing, toileting, feeding and moving from place to place. They also change bed linens and may perform light housekeeping tasks. CNAs are most commonly found in hospitals, skilled nursing facilities and hospices and may perform some medically related tasks, such as taking vital signs, changing dressings and cleaning catheters under the direction of a registered nurse or licensed practical nurse. CNAs may also work in home settings. Home health aides do not perform medical care but may run errands, cook food, wash clothing and other housekeeping tasks.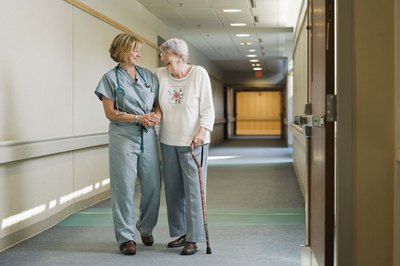 Qualifications
While requirements vary from state to state, generally CNA and HHA candidates must pass a criminal background check and provide proof of vaccinations and a negative tuberculosis test. Also, they may need a high school diploma or GED (general education diploma).
In most states, home health aides and certified nursing assistants have minimal recertification requirements. For example, in Michigan, a certified nursing assistant can be recertified if he has worked 8 hours over a 2-year period. CNAs and HHAs may need to take continuing education coursework to be recertified. Contact a state licensing bureau for specific recertification requirements.
Warning
Because programs vary, it is important to contact state licensing bureaus to learn specific requirements. For example, some states do not require HHAs to be licensed, while others have an HHA component in their CNA training programs. Certifications may or may not transfer from state to state.
Earnings
According to the U.S. Department of Labor Bureau of Labor Statistics, most home health aides earned between $7.06 and $10.90 per hour. Most certified nursing assistants earned between $7.78 and $14.99 per hour.
Outlook and Advancement
Because of the aging population, demand for HHAs and CNAs is likely to increase. However, both jobs are demanding and there is high turnover. Both are entry-level jobs in the medical profession. However, much more additional training is required before moving to other medical careers. To advance, many people become CNAs, and then proceed to become Licensed Practical Nurses (LPNs) or Registered Nurses (RNs). While there are some college-level programs specifically for CNAs to become nurses, there are few--if any--programs specifically for HHAs to do so.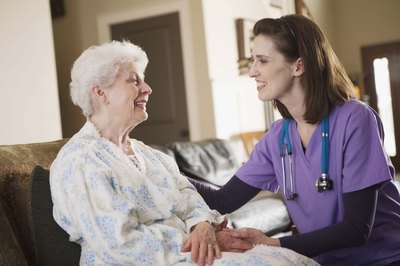 Home Health Aide Training
In general, home health aides may receive on-the-job training or complete a short training program at a local community college or vocational school. The training includes first aid, CPR, proper body mechanics and other measures to ensure the safety of the aide and the patients, such as patient transfers. On-the-job training would include facility policies, procedures and specific needs for individual patients.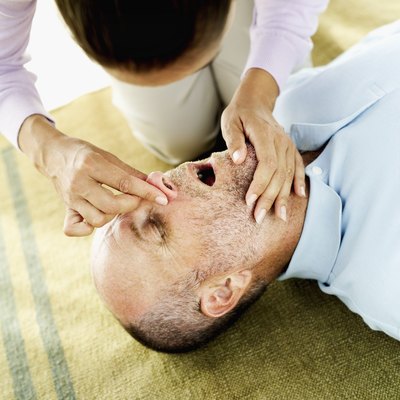 Certified Nurse Aide Training
To become a certified nurse aide, students must complete a state-approved training program at a local community college, trade school, hospital or nursing home. In addition to the skills learned by home health aides, CNA students also learn how to take vital signs as well as care for dressings, catheters and other equipment. The training includes classroom and supervised hands-on clinical training. Once the coursework is completed, the student must complete a state certification examination.