Dubai's white-sand beaches and posh resorts are becoming increasingly popular with European tourists. But in view of the much-publicized conservatism of Islam in matters of sex, unmarried couples need to know what to expect when they check into a hotel in Dubai.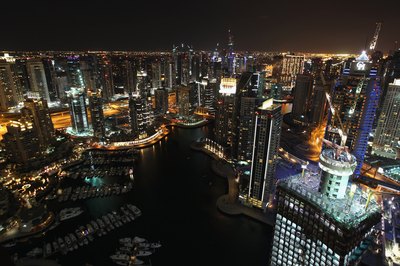 Rules of Behavior
Dubai is more relaxed than the seven other members of the United Arab Emirates, but unmarried visitors should know about recently passed rules of behavior. Dubai has banned all forms of nudity and playing loud music, as well as kissing and holding hands in public. The guidelines appear to be aimed at the shopping malls popular with tourists, but you can be fined or imprisoned for violating them. A peck on the cheek is the limit. Anything more than that can lead to trouble with the police. The behavior allowed in hotels, resorts and Western-style bars is more liberal.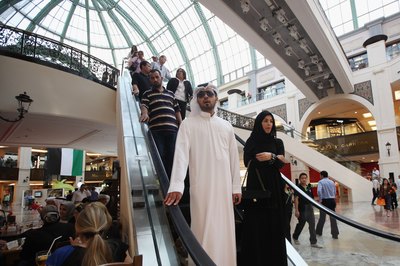 Checking Into a Hotel
It is technically a violation of Sharia--Islamic law--for an unmarried couple to share a private room, a car, or a hotel room. But this rule, the Tawajed clause, is routinely overlooked in Dubai, where foreigners outnumber the natives 9-to-1. Hotel clerks ask for only one passport and never ask for a marriage certificate. Since Arab women in the United Arab Emirates keep their surnames when they get married, different names on passports mean little. To avoid complications, couples should refer to one another from the moment of check-in as husband and wife.
Clothing
Your clothes should not fit too tightly or be transparent. Your hemlines should not be too high, and you should avoid skimpy T-shirts and other form-fitting clothes. Keep your body mostly covered, and wear conservative swimming attire at the beach.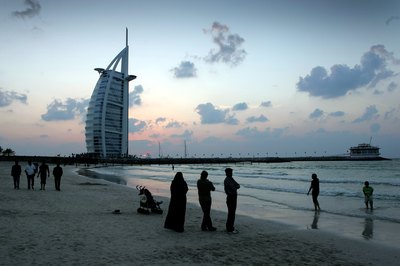 Drinking
You should not drink alcohol outside the dozens of hotels, resorts and nightclubs that legally serve it. Dubai has made this cultural exception for drinking alcohol in the interests of pleasing Western visitors.
Avoiding Trouble
The only recent trouble from police, reported in detail by British newspapers, has been when furious Western husbands or wives have complained about their wayward spouses to Dubai authorities. This shouldn't be a problem unless you've left an angry husband or wife at home for some adulterous fun in Dubai.