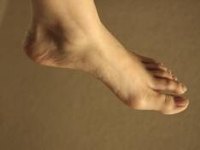 Almost everyone experiences some type of foot pain in their life. Foot pain can be caused by broken bones, sprains, arthritis, or damage to the ligaments and tendons. Other causes of foot pain include wearing shoes that don't fit, ingrown toenails, plantar warts, bacteria, fungi, or disease. Some of these causes can be treated with over-the-counter medicines, while others may need to be evaluated by a physician.
Causes of Toe Pain
Corns are common causes of toe pain. Corns are caused when layers of skin grow as a response to irritation from wearing tight-fitting shoes or having flat feet or toe deformities.
Another cause of foot and toes pain are ingrown toenails. These are the result of wearing narrow, tight-fitting shoes or trimming the toenail incorrectly.
Other toe problems that could cause foot pain include bunions, hammertoes, and fractured toes.
Forefoot
The forefoot includes the toes, the front ball of the foot and the small bones leading to the toes. Wearing high heels or engaging in high-impact activities, such as running, can cause a type of foot pain known as metatarsalgia, which is pain felt in the ball of the foot. People with high arches are more prone to develop metatarsalgia than other people. The small bones leading to the big toe are called sesamoid bones. The sesamoid bone fragmenting or a stress fracture is a condition known as sesamoiditis. These injuries are common in runners and ballet dancers.
Causes of Midfoot Pain
Midfoot pain is a type of pain that can be caused by tarsal tunnel syndrome or excessive pronation. Tarsal tunnel is due to the compression of a nerve that goes from the inner anklebone to the heel. Typically an injury such as a sprain or fracture may cause this nerve to be compressed. Excessive pronation is a pain that results from a the muscles in the middle of the foot being pulled and stretched. This occurs in people who have flat feet and feet that turn outward at an angle.
Causes of Heel Pain
Heel pain is the most common foot problem. According to UPMC Mercy Hospital, heel pain affects two million people in the United States each year. (See Reference 1) Fractures, Achilles tendon problems, heel spurs, and plantar fasciitis are the problems that may cause this type of foot pain. Plantar fasciitis is a tear in the plantar fascia, which is a ligament running from the heel to the ball of the foot. High-impact activities are the most common cause of this type of pain.
Causes of Pain in the Arch/Foot Bottom
Having a condition called cavus foot can cause this type of foot pain. Cavus foot is an abnormally high arch of the foot. Flat feet are a more common problem that is often inherited. Flat feet is also known as posterior tibial tendon dysfunction (PTTD).