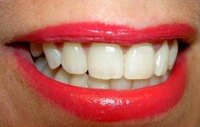 Even if you do not have perfect teeth, a beautiful smile is still possible. Cosmetic dentistry has made great advancements in the art of smile enhancement, and the application of porcelain veneers can render a worn out smile, bright and youthful once again. Lumineers are manufactured by Den Mat Corporation and are essentially porcelain veneers. But, the process of applying Lumineers to the teeth is somewhat different from that of traditional porcelain veneers.
What are Porcelain Veneers?
Porcelain veneers are thin casings that are constructed to cover your existing teeth. Molds of your teeth are taken by a dentist prior to the creation of the porcelain veneers so the dental lab can design a set that will fit perfectly and enhance your smile. According to the American Dental Association (ADA) , the placement of porcelain veneers is a permanent process. Enamel must be removed from each tooth prior to placement, which is an irreversible procedure. It is important to note that some patients find the process of enamel removal to be a long and uncomfortable experience.
How are Lumineers Different?
According to Lumineers.com, Lumineers have a higher level of transparency and are even thinner than traditional veneers. They also require no teeth grinding prior to their application, and can be completely adhered within two dental visits. Unlike traditional porcelain veneers, Lumineers are completely reversible and can be removed without permanent damage to the teeth at any time.
Cerinate Porcelain
Lumineers are constructed of Cerinate porcelain, which is a proprietary form of manufactured porcelain. Den Mat Corporation explains that the high quality porcelain is resistant to cracking and has been clinically proven to last for up to twenty years. Each set of Lumineers comes with a five year warranty and a guarantee of replacement at no extra charge.
Dental Coverage
If Lumineers are adhered to the teeth to cover up staining or chips, the procedure will usually fall under the category of "cosmetic". Therefore, the procedure is often not covered under most dental plans. However, Consumer Guide to Dentistry reports that if the procedure is performed as a "restorative process" that is deemed medically necessary; a percentage of the cost may be covered under your dental insurance. A quick call to your private dental insurance company should be able to clarify these details.
Some Words of Caution
Although Lumineers require no prior tooth preparation and are less expensive than traditional porcelain veneers, there are some significant drawbacks. My New Smile reports that because Lumineers require no enamel removal, there is often a gap between the Lumineers and the existing teeth. As a result, there is the potential risk of tooth decay and gum disease down the road. Also, unlike porcelain veneers that have a smooth transition between the existing teeth and porcelain sleeves, there may be a noticeable junction with Lumineers.