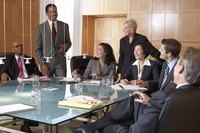 Corporate culture analysis is a way of determining the solidarity, productivity and satisfaction of a workforce. A company's culture is determined by the way a company treats its employees and the tools and systems it provides to enable its workers to progress. To conclude whether a company's culture is in alignment with its goals, the company must know what to measure.
Purpose
The aim of a corporate culture analysis is to determine the unity and cohesion of the various departments and to conclude whether or not the overall work environment is conducive to efficiently and effectively working toward company goals. Instead of focusing on individual components, corporate culture analysis seeks to understand the unique work atmosphere of the company as a whole. Corporate culture is dictated by company regulations, mission statement, work ethics, goals and incentives, and overall human resources management.
Methods
When analyzing the culture in your corporation, you have multiple methods at your disposal. Research published by the Innovation Service Network reveals that common methods for analyzing corporate culture include providing questionnaires to employees, interviewing employees and generally observing work dynamics over a period of time. Questions, whether verbal or written, should focus on interpersonal relationships, time and work space, and other factors that affect the work culture in a corporation.
Measurements
According to the Graziadio Business Review, the integrated cultural framework provides a series of measurements to analyze corporate culture and is used across multiple industries. ICF guidelines help to understand the motivation and effectiveness of a company's workforce by measuring achievement, time and spacial orientation, equal opportunity for advancement, opportunities for employees to influence the organization and whether the employees work better as individuals or in teams. All of these can be discovered through surveys and a series of interviews with your staff and team leaders.
Analysis
Once you have gathered your observation data, surveys and interview files, you must interpret the information by comparing it to your company's culture goals. For instance, if the company prefers team players and wants to inspire creative solutions, the corporate culture analysis should reflect that. If it does not, then corporate leaders must try new tactics, create a new system or adapt their goals to better promote both productivity and workplace satisfaction within the company.