Our bodies produce the cholesterol we need in the liver. But it is the cholesterol we consume that produces problems. These are called saturated and trans fats that wind up hiking our blood cholesterol. Many people have inherited high cholesterol levels and must either take statins to keep it down or follow a very rigid diet. The American Heart Association advises healthy people to consume no more than 300 mg of dietary cholesterol daily, and people with heart disease should have less than 200 mg a day.
Shellfish contain cholesterol. But studies show that populations that consume a lot of seafood and shellfish, such as the Japanese, don't have a high incidence of coronary heart disease. It could be because seafood and shellfish are also high in the good omega-3 fats and low in saturated fats.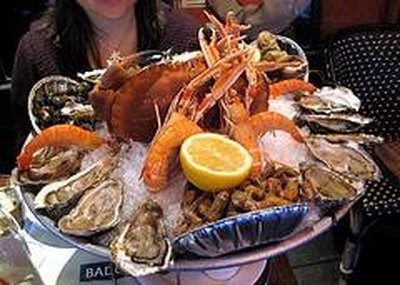 The Amazing Oyster
The skinny on oysters is that they are the bottom of the list of shellfish in calories, fat, saturated fat and cholesterol. Researchers at the Yale/New Haven, Connecticut Nutrition Center report that up to six medium oysters have only 50 calories, 2 grams of fat, 1/2 gram of saturated fat, and 58 mg of cholesterol. That may seem like a whopping dose of cholesterol. But when you compare it to other shellfish and foods such as a steak, it's really not much.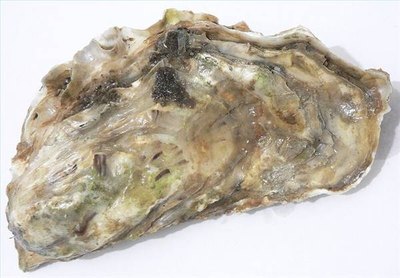 Lobster Lovers Relax
Go ahead. Enjoy yourself. Have a lobster for your birthday, your anniversary or for a picnic on the beach. Yes, you'll be ingesting some cholesterol, but you can greatly limit the amount by not dipping every piece into butter. A 3-ounce serving of lobster meat has 83 calories, 1/2 a gram of fat, 1/10th of a gram of saturated fat, and 61 mg of cholesterol. You might have the 3-ounce serving in a lobster roll or on a cold lobster platter.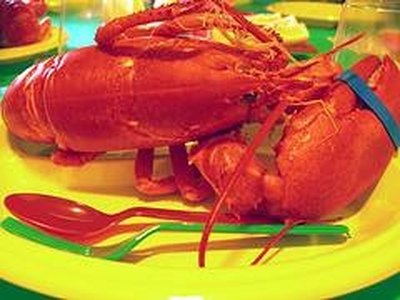 Shrimps & Scallops
Shrimp delivers the highest cholesterol punch of any seafood. Scallops are a bit better. According to the Yale New Haven Nutrition Advisor, 15 large shrimp deliver 84 calories, about 1 gram of fat, 0.2 percent of saturated fat, but a whopping 166 mg of cholesterol. If we look at a serving size of 3 or 4 large broiled scallops, they are much more caloric than the shrimp, 113 calories, and deliver more fat, 3 grams of it. But they only have 6/10ths of a gram of saturated fat and just 34 mg of cholesterol.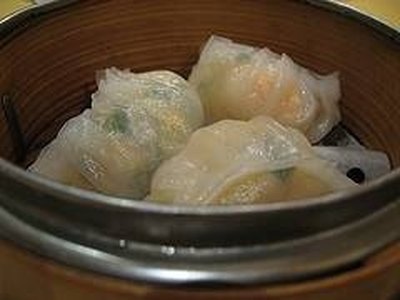 Clams & Mussels
Clams and mussels are summertime favorites. But too often they are consumed by dipping them into broth, then butter, which can multiply your cholesterol intake. Four to five mussels are the highest caloric seafood, 146 calories, with the highest fat grams, 4, but a moderate 7/10ths of a percent in saturated fat and 48 mg of cholesterol. Nineteen small clams appear to be relatively healthful. They have 126 calories, 2 grams of fat, 2/10ths of a percent of saturated fat and 54 mg of cholesterol.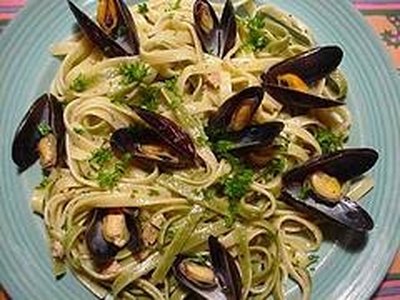 King Crab and Crabmeat
Who can eat just one King crab leg? They can be irresistible. But they're also packed with calories and cholesterol. Just one leg is 130 calories, 2 grams of fat but a very low 1/10th of one percent of saturated fat and 71 mg of cholesterol. A 3-ounce portion of baked crab without butter, but lots of lemon, is 118 calories, a hefty 5 grams of fat, 1 full gram of saturated fat and 80 calories.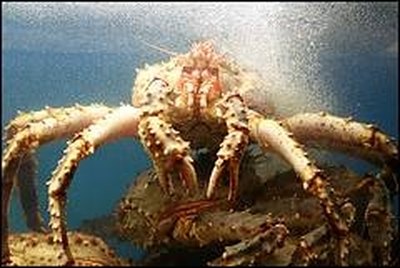 The Connection Between Seafood and Cholesterol
All seafood contains cholesterol. But researchers have found that not only is it low in saturated fat, which is the real killer, it also delivers healthy omega-3 fatty acids and some omega-6 fatty acids, which are crucial in lowering the body's cholesterol levels. An Australian government Fisheries Research and Development Corporation report, last updated March 28, 2007, reports that seafood also contains selenium, co-enzyme Q-10 and the amino acid taurine, which are all good for the body. The report concludes that it sees the role of seafood in the diet moving from a cornerstone of a healthy diet into the role of actual disease prevention.