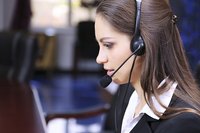 Customer service acts as a bridge between a company and its customers, and it can enhance a company's image and sales through effective communication. Whether your company uses an outbound phone-based sales force or provides inbound phone-based support, excellent customer support enhances your company's reputation, which can lead to long-term company success and growth. Successful companies are able to balance the needs of their customers with the cost constraints of customer service through effective call handling and alternative support options.
Inbound Customer Service
Inbound customer service refers to contacts with the company that are initiated by the customer. The nature of inbound customer service has expanded with technology -- from letters and phone calls, to faxes and emails, to text messages and even contacts initiated through social media, such as posts on a Facebook page or direct tweets. These contacts may be related to technical support, sales, product information, account questions or general company information. For example, a customer calling her credit card company to find out her balance is an inbound customer service inquiry. Complaints about quality or service are also inbound customer service issues.
Outbound Customer Service
Outbound customer service refers to contacts with customers or potential customers that initiated by the company. These calls, emails or other contacts might be to follow up on a customer contact, schedule services, offer additional products, update customer information or survey customers. Not to be confused with opposed to telemarketing or direct marketing, outbound customer service focuses on enhancing an existing relationship with a customer or potential customer rather than merely selling goods or services.
Importance of Live Contacts
Inbound phone calls can be a make-or-break point for customer service. Many customers would prefer talking to a live person rather than navigating through menus and trying to make themselves understood by voice-recognition systems. This is also an issue that arises with online "live chat" support, where customers would much rather deal with a real person at the other end of the chat than with a computer than parses their input and tries to address their problems. In whatever medium, interactions with a live person can increase sales and customer satisfaction. Customers feel appreciated when a resolution to problems or information requests are quickly handled through effective customer service.
Location
Customer service centers are located around the world. Some companies choose to have their own employees perform customer service activities, while others outsource to companies that specialize in inbound and outbound customer service. Large customer service companies can be found in the United States, India and the Philippines.
Alternatives
Many companies look to customer service alternatives due to the cost of live customer service support. Some alternatives include Internet-based information repositories for frequently asked customer questions, online account access, live chat options via the company's website, email customer support and automated information systems. Successful companies are able to balance alternative customer support options with live support to enhance a customer's experience while decreasing customer service costs.