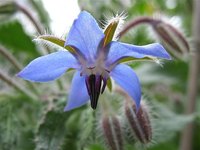 Borage, also known as starflower, is a bristly-leafed herb with blue, pink, or white flowers. It can be used in cooking and in medicine, but is mainly known for its high percentage of gamma-linolenic acid (GLA). Although oils such as black current and evening primrose are praised for their GLA-rich properties, borage is the highest plant source around, weighing in at 17 percent to 28 percent GLA. Because of its moisturizing and anti-inflammatory properties, borage is used by naturalists around the world for healthy hair growth.
About GLA
Gamma-linolenic acid is part of the omega-6 family of essential fatty acids (EFAs). These fatty acids are necessary for brain functioning, human growth, metabolism, reproduction and healthy bones. They're also essential for healthy hair, skin and nail growth. However, EFAs can't be manufactured in the body and must be procured from plant-based foods.
Inflamed Follicles
Hot days, humid days, diabetes, constricted clothing, infected hot tubs and unsanitary conditions are all causes of "folliculitis," or inflamed hair follicles. This condition can occur wherever hair grows, including the scalp. To reduce inflammation and keep your follicles functioning well, add a daily capsule of borage oil to your diet.
Dry Scalp
The fatty acid in borage oil works to combat a dry, itchy scalp and replenish it with moisture. A study published in the British Journal of Nutrition showed that borage and flaxseed oil reduced redness and flaky skin in 45 women, ages 18-65. If your scalp is severely dry or you have dandruff, take 500mg two times a day for two months. When the condition improves, reduce your intake to one capsule a day.
Thinning Hair
The healthy fat in GLAs may help to delay male pattern baldness, as well as other types of hair loss. Taking 500mg daily can encourage new hair growth while preventing further loss.
Topical Treatment
Borage can be applied directly to the hair as well as taken internally. It improves skin's water retention (meaning that less water is lost through the skin) and provides nourishment for dry or damaged hair. Mix borage seed oil with other moisturizing herbs, such as calendula or rosemary, and massage them into the scalp as a soothing conditioner. Leave it in for an hour or longer.
Cautions
Borage should not be taken blindly, because the herb hasn't been approved by the FDA for treating any medical condition. Talk with your doctor if you're pregnant or nursing. There are no common side effects to borage, but seek medical attention if you experience an allergic reaction of any sort (including a tight chest, breathing difficulties, swelling, itching or a rash).