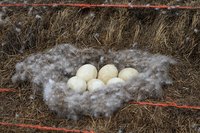 With their deeply "eggy" flavor, goose eggs are a rich alternative to chicken eggs. Goose eggs are significantly larger than chicken eggs, though, and they have a higher calorie count to match -- each egg contains 266 calories, or the equivalent of almost 4 large chicken eggs. While goose eggs have some nutritional drawbacks making them best eaten in moderation, they still add nutritional value to your diet.
Fat and High-Quality Protein
Goose eggs have ample amounts of high-quality protein, but they're also high in fat. Each goose egg contains 20 grams of protein, made up of all the amino acids you need to maintain healthy tissues. A goose egg also contains 19 grams of fat, with approximately 5 coming from saturated fat. Since saturated fat has an adverse effect on your cholesterol levels -- increasing "bad" cholesterol levels -- you'll want to eat goose eggs in moderation. Each egg also contains 1,127 milligrams of cholesterol -- more than quadruple the recommended daily limit for healthy people.
Health-Boosting Minerals
Despite the nutritional drawbacks, goose eggs have lots of beneficial minerals. Each egg contains a little more than 5 milligrams of iron, providing 29 percent of the daily value. Iron's essential for an active lifestyle, because it helps your cells produce energy and forms a component of hemoglobin, a protein required for oxygen transport.
Goose eggs also provide selenium -- 53 micrograms per egg, or 76 percent of the daily value. Your cells use selenium as an antioxidant that guards against DNA, protein and cell membrane damage caused by harmful free radicals.
Beneficial B's
Dine on goose eggs and you'll also get several B-complex vitamins -- a group of nutrients needed for energy, nerve health and red blood cell function. Each egg has at least 10 percent of your daily needs for each B-complex vitamin except niacin -- vitamin B-3 -- and provides your entire daily value for vitamin B-12. Getting enough B-12 is important for long-term health, since a chronic shortage can cause irreparable nerve damage if left untreated.
Goose eggs also provide other essential vitamins, including vitamin A, vitamin D and vitamin E.
Choline, Lutein and Zeaxanthin
Goose eggs are also loaded with other beneficial nutrients, including lutein and zeaxanthin. These two nutrients promote eye health by filtering harmful light rays before they damage the nerve-rich tissues at the back of your eyes. A single goose egg has a generous 636 micrograms of lutein and zeaxanthin.
Each egg also provides 379 milligrams of choline -- 90 percent of the daily need for women and 69 percent for men. Choline helps your nerves and other cells communicate, and it's also a key structural component of cell membranes.