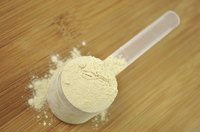 Peel back the covering on a carton of yogurt and you'll notice a thin layer of milky liquid. Don't pour it off -- it's yogurt or acid whey and it is good for your health. Whey is one of two proteins found in cow's milk. It separates from the milk solids during the process of yogurt making.
Good for a Trimmer Middle
Yogurt whey can help you slim down by making you feel full. Protein gives a better sense of satiety than carbohydrates or fats, according to the National Dairy Council. Additionally, whey will help you recover from a tough workout as protein is essential for muscle repair. Pour yogurt whey over ice or into a smoothie for a refreshing, post-workout beverage.
Long-term Benefits
Stir the whey back into your yogurt and you may benefit for life. Consuming protein, such as is found in whey, may prevent muscle loss in your old age, according to the National Dairy Council. Furthermore, an animal study published in "Cancer Epidemiology, Biomarkers & Prevention" in 1999 suggested that a diet rich in whey protein may reduce the risk of breast cancer.