While not everyone appreciates the sharp bite that radishes bring to salads and main dishes, these roots offer a number of nutritional benefits. Related to the mustard family, radishes are typically eaten raw in the United States. In Asian, Russian and Polish cultures, however, they are used regularly to enhance the flavor of favorite cooked dishes.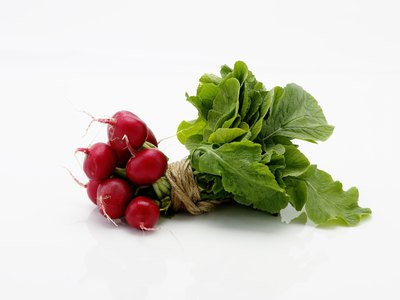 Water Content
Over 60 percent of the human body is composed of water, so it's important that we hydrate ourselves properly. In addition to drinking regular fluids, eating fruits and vegetables helps us maintain daily water levels. Radishes contain nearly 95 percent water in proportion to their weight, making them an excellent hydration source. This water content can also curb your appetite by making you feel full sooner--a definite benefit if you're trying to lose weight.
Since radishes are filled with water, they can also help to ease urinary tract infections and burning during urination. Providing essential fluids to help flush the urinary system, radishes may also help improve bladder and kidney conditions.
When preparing food with radishes, remember that the high percentage of water prevents them from freezing well. Freezing often causes crystal ice damage, which results in mushy, colorless radishes upon defrosting.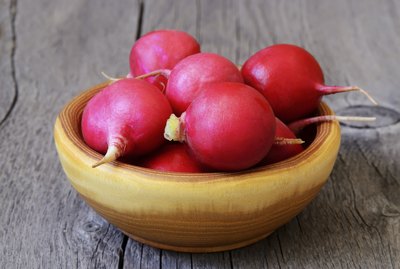 Dietary Fiber
Low in fat and cholesterol, radishes supply a generous amount of dietary fiber. One serving (1/2 to 1 cup) provides 1 to 2 g dietary fiber, which is 5 to 8 percent of the recommended daily allowance. Dietary fiber helps reduce food cravings, encourages normal elimination and can even improve cholesterol levels.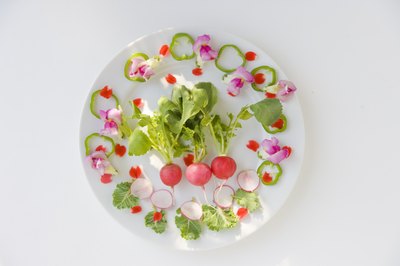 Vitamins
A vegetable with antibacterial and antifungal properties, radishes are a healthy source of vitamins A, B-6, C, K, riboflavin and folate. Because of their high vitamin content, radishes are a helpful dietary supplement for people with colds, flu, cancer, skin disorders, asthma and other respiratory conditions. They also provide capillary strengthening, controlled homocysteine levels and lowered incidence of bruising.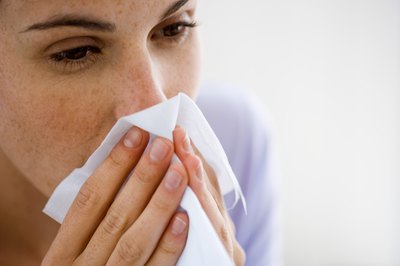 Minerals
Radishes contain significant levels of calcium, iron, phosphorus, copper, magnesium and potassium. These minerals do many things for your body--like strengthen bones, protect the heart, lower blood pressure, improve the digestive and immune systems, improve kidney function and produce energy.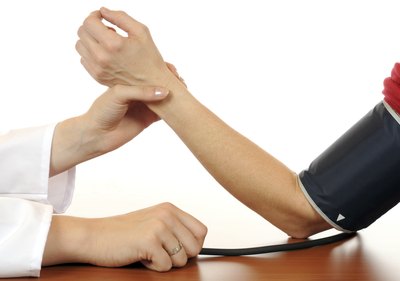 Buying Tips
Although there are many varieties, most grocery stores carry common red radishes. If you're looking for specialty radishes like daikon, you may need to visit an Asian grocer or natural food store.
When selecting radishes, pick those that are firm with brilliant red coloring. Avoid selecting radishes with scrapes, cracks or scars, since it may be a sign of nutrient and water loss. If the radishes are still attached to their leaves, the leaves should be healthy and bright green. It's best not to buy radish bunches with wilted or brown-colored leaves--even if the radishes themselves appear healthy.