Tart cherries are wonderful in pies and tarts when sweetened but are also known for their health benefits when juiced. As with many plants, it is the liquid held within the tissues of the plant that holds the vital nutrients conducive to health. The fresher the juice, the higher the amount of viable enzymes and antioxidants available as oxidation starts immediately after the cherry has been picked and quickens after the skin has been broken. Likewise, the more concentrated the juice, the higher its potency.
Benefits
Cherries have long been known to help people with the symptoms of gout and other forms of arthritis. It seems to lower the urate levels in the body, reducing the painful deposits of uric acid in the joints. The fruit is high in antioxidants and phenolics, which help reduce inflammation, and also contains melatonin.
Considerations
Concentrated cherry juice is the equivalent of eating 60 cherries for every ounce consumed. That would be a lot of cherries and quite expensive. Buying the concentrate is a much simpler way to get a lot of cherry juice in one setting without the hassle of spitting out so many seeds.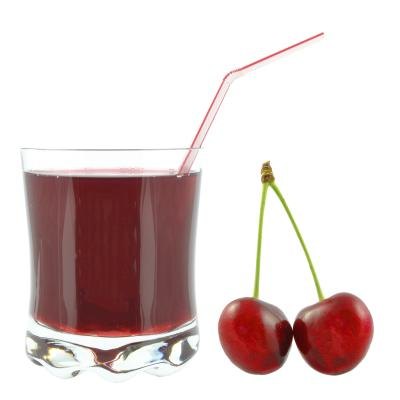 Process
Typically the tart cherries are picked, washed and sorted and then mashed. This breaks down the fruit so the juice can be extracted. The juice is then passed through a micro filter so it is clear. Concentrating the juice takes a little time as it is reduced into a concentrated syrup, which is then packaged and sealed for processing. This syrup is then distributed as the concentrate, reconstituted to sell as a juice, or injected into gel caps for easy consumption.
Availability
Although cherry-picking season is short-lived, the processing and sealing procedure keeps the product available year-round. Most of the cherries are grown in Michigan, Oregon and Washington State but the juice concentrate can be found nationwide at most health food stores and large grocery stores.
Varieties
Although the Montmorency cherry is the most-used tart cherry for this process, there is another less known cherry species called the Balaton. Most of the other cherries fall into the category of sweet cherries and have less of the potent compounds desired from the tart cherries, although they are still high on the list of superfoods recommended for arthritis sufferers.