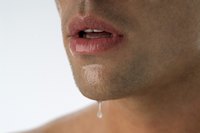 The excretory system is responsible for removing wastes produced by the body. These wastes must be removed, or excreted, in order for the body to remain healthy. The human excretory system includes the skin, the kidneys, the large intestines and the liver. Each of these organs helps the body to excrete or eliminate waste that the body takes in when it eats or drinks something, or that the body produces during metabolic or life functions.
Kidneys
The kidneys produce urine, which removes excess nitrogen and other waste products from the body. Blood enters the kidney, and the blood is subsequently filtered through several organs and tubes in the kidney. During this filtration process, water and other good molecules are reabsorbed into the body while additional waste products are added to the urine. Finally, excess salt is added to the urine. The urine then travels through a duct, and finally connects in the renal pelvis. From there, it flows into the bladder and is stored until the bladder is full. When the bladder is full, people urinate to empty it and all the wastes added to the urine- including nitrogen and salt- are removed from the body.
The Liver
The liver detoxifies and breaks down chemicals, poisons and other toxins that enter the body. For example, the liver transforms ammonia (which is poisonous) into urea (which is then filtered by the kidney into urine). The liver also produces bile, and the body uses bile to breakdown fats into usable fats and unusable waste.
Bile
After bile is produced in the liver, it is stored in the gall bladder. It is then secreted within the small intestine where it helps to break down ethanol, fats and other acidic wastes including ammonia, into harmless substances.
Large Intestine's Role
The large intestine collects waste from throughout the body. It extracts any remaining usable water and then removes solid waste. At six to seven meters long, it transports the wastes through the tubes to be excreted.
Skin
Skin extracts sweat through sweat glands throughout the body. This helps to remove additional wastes. Furthermore, the sweat, helped by salt, evaporates and helps to keep the body cool when it is warm.
Eccrine
Like sweat glands, eccerine glands allow excess water to leave the body.The majority of eccerine glands are located mainly on the forehead, the bottoms of the feet, and the palms, although the glands are everywhere throughout the body. They help the body to maintain temperature control.