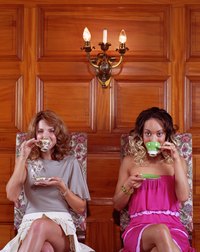 Some of tea's benefits may be at least partly due to its caffeine content. The other benefits of tea are mainly due to the antioxidants called polyphenols found in the tea, but these can be reduced by the decaffeination process. This doesn't mean that decaffeinated tea has no benefits, just that you may have to drink more tea to experience them.
Caffeinated Versus Decaffeinated Tea
The decaffeination process destroys some of the beneficial flavonoids in tea. Regular caffeinated tea ranges from about 21 milligrams of flavonoids per gram to about 103 milligrams per gram, depending on the type of tea and processing. In contrast, decaffeinated tea has just 5 to 39 milligrams per gram of flavonoids, according to a study published in Nutrition and Cancer in 2003.
Cancer Prevention
Drinking tea may help lower your risk for certain types of cancer, including lung, esophageal and colon cancer, according to a review article published in the Tropical Journal of Pharmaceutical Research in September 2007. These beneficial results are most likely due to the polyphenols in tea, which means that decaffeinated teas could still help limit cancer risk.
Other Potential Health Benefits
The polyphenols in tea may also help limit cavities, according to the Tropical Journal of Pharmaceutical Research article. Other potential health benefits of green tea include a decrease in the risk of heart disease and stroke, as well as an increase in weight loss, according to another review article published in American Family Physician in April 2009. The weight management benefits appear to come from a combination of tea polyphenols and caffeine, so decaffeinated tea isn't likely to have as much of an effect as caffeinated tea.
Maximizing the Benefits
When choosing decaffeinated tea, opt for green or white tea rather than black or oolong tea. Green and white teas aren't fermented like black and oolong tea, so they contain more of the beneficial polyphenols called catechins to begin with, and thus have more of these polyphenols remaining after the decaffeination process. Black tea also provides polyphenols, but mostly in the form of theaflavins, which aren't as well-studied as the catechins in green tea.
You need to drink at least 3 cups of either green or black tea to achieve heart-health benefits, according to the Harvard School of Public Health. With the decrease in polyphenol content that occurs with decaffeination, you'd need to drink even more tea for health benefits. Drink your tea without milk, as the protein and fat in the milk may limit the effects of the polyphenols.