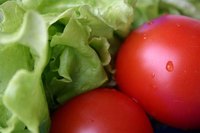 Lettuce is a common vegetable most known for its widespread use in salads and on sandwiches, such as a BLT (bacon, lettuce and tomato) sandwich. Vegetables, including lettuce, are healthy to eat because they are low in calories and contain essential nutrients. Certain vegetables, however, are more nutritious than others. Lettuce is normally eaten raw and often used as a garnish.
Types
There are six basic types of lettuce, which include butterhead, Chinese, iceberg, looseleaf, romaine and Batavian. Butterhead lettuce forms a loose head and has a buttery taste. Chinese lettuce forms long sword-shaped leaves and has a somewhat bitter taste. Iceberg is known for its crunchy leaves and mild taste. Looseleaf lettuce has mildly flavored leaves. Romaine is a head-forming type of lettuce with elongated leaves. Batavian forms a dense head and the leaves have a crunchy texture.
Nutrients
Overall, lettuce is mostly made up of water, however, it does contain some nutrients such as antioxidants that fight against cancer, heart disease and certain eye conditions such as cataracts. Lettuce also contains vitamin C, potassium and fiber. Leaf lettuce is low in sodium and high in vitamin A. In comparison, lettuce does not provide as many nutrients as other green leafy vegetables, however, certain types of lettuce such as Romaine are higher in nutritional value than others.
Dark Green Leaves
The most nutrition is found in the dark green leaves of lettuce. The dark leaves contain beta carotene as well as phytochemicals such as flavonoids. According to HealthandFitness.com, beta carotene may help prevent cancers of the lung, stomach and esophagus. It also states that there is some evidence that beta carotene may reduce the risk of developing other forms of cancer, as well.
Health Benefits
Adding lettuce to your regular diet offers several health benefits such as a reduced risk of heart disease, cataracts and stroke. It also aids digestion and promotes liver health. Many of the phytonutrients found in green, leafy vegetables are antioxidants, which fight cancer and heart disease. Lettuce is a good diet food when trying to lose weight since it is low in calories and high in water content.
Romaine
Romaine is a very nutritious lettuce. It is an excellent source of vitamins A, K and C, beta carotene, folate, manganese, chromium and dietary fiber. It also contains vitamins B1 and B2, iron, potassium, calcium, protein and omega-3 fatty acids as well as other nutrients.
Significance
In order to derive the maximum health benefits of lettuce, it should be included in your diet on a regular basis. Using various types of lettuce togethe, such as iceberg and romaine, can balance the nutritional benefits. For example, romaine is more nutritious than iceberg so using them in combination can ensure that one obtains adequate nutritional benefit. Lettuce eaten in combination with other green leafy vegetables such as kale and spinach can also increase the nutritional benefits.