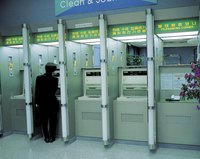 The Federal Reserve facilitates inter-bank money transfers while the Treasury Department, Internal Revenue Service and the Office of Comptroller of the Currency all have roles in monitoring and restricting these transactions. Non-banking entities use a variety of processing services for money transfers. All entities, however, are subject to the same federal regulations as banks and credit unions.
Fedwire System
Banks transmit funds electronically using the Fedwire system. Banks can submit wire transfers between 8.30 a.m. and 3.15 p.m. Monday through Friday with the exception of federal holidays. The Fedwire system remains open each day for an additional 15 minutes for reversals, and an extra hour for other corrections. Participating banks are assigned a routing number that serves as a marker to direct the transferred funds. Technically, wire transfers are irrevocable. Reversals typically occur when the sending bank provides incomplete or inadequate information.
Bank Secrecy Act
The Bank Secrecy Act includes provisions designed to detect and prevent illegal activities, including terrorism and money laundering. Banks are required to gather details, such as the name and address of both the sender and receiver, prior to authorizing wire transfers. Banks also record information about the purpose of the transaction. The IRS, OCC and other agencies are responsible for ensuring compliance with the reporting requirements. Banks and individuals can face fines and other legal penalties for negligence or willful non-compliance with the Bank Secrecy Act.
OFAC
The Office of Foreign Assets Control enforces economic sanctions against states and individuals. OFAC has jurisdiction over international wire transfers. The OFAC regularly updates its list of nations subject to sanctions that limit or prohibit money transfers, which as of 2015 included Iran and North Korea. Updated information on these sanctions can be found at the U.S. Department of the Treasury website. OFAC has the authority to freeze transferred funds tied to suspicious transactions and may take such action to prevent money flowing to a sanctioned country, or if a party involved is included on OFACs list of known terrorists. OFACs authority is derived from both the Bank Secrecy Act and the Patriot Act.
Banking Regulations
Bank deposits, including wire transfers, are subject to Regulation CC -- the Fund's Availability Act. The act prevents banks or financial institutions from placing holds on funds received through wire transfers. Electronic payments passed through Automated Clearing Houses are also subject to the same rules. However, the IRS and other federal agencies have the power to freeze access to electronically transferred funds tied to criminal activity.