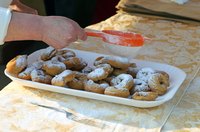 Americans get way too much added sugar in their diet, according to Dietary Guidelines for Americans, 2010. Seniors should limit sugar in their diets not only because of the empty calories and its effect on weight but also due to effects on their overall health, memory and teeth. Consult your doctor or dietitian to discuss diet and health.
Weight Gain
Like all age groups, seniors are experiencing a growing obesity rate. As you age, your calorie needs decrease, so you need to eat less to maintain the same body weight. Foods with added sugar, such as soda, cake and cookies, contribute calories to your diet without adding any nutritional value.
These foods don't cause weight gain if you're eating within your calorie limits. But if you're struggling with your weight, cutting these foods out of your diet can help decrease your overall calorie intake without compromising the nutritional quality of your diet.
Sugar and Disease Risk
Getting too much sugar in your diet may increase your risk of certain diseases, including heart disease, type-2 diabetes and cancer. The link between sugar and disease may be due to its effect on weight, however, according to Harvard Health Publications.
Still, a 2015 study published in the "Journal of the American Medical Association" noted that too much added sugar in the diet increases risk the of heart disease regardless of confounding factors like weight. The risk of heart disease increases as you age, according to the Agency of Healthcare Research and Quality, and limiting your intake of added sugar may help lower your risk in addition to helping you get to and maintain a healthy weight.
Effects on the Brain
If you're experiencing moments of forgetfulness, also referred to as senior moments, it may be due to your high-sugar diet. Foods that digest quickly, such as soda and sweets, cause rapid fluctuations in blood sugar. Maintaining even blood sugar levels, with or without diabetes, helps preserve cognitive health and memory as you age, according to a 2008 report from Columbia University Medical Center. Replace those sweets with foods that help keep blood sugar in control, such as whole grains and beans.
Tooth Decay
More and more seniors are keeping their permanent teeth, according to MayoClinic.org. Due to the wear and tear as you age, these teeth are more vulnerable to the development of dental caries. Consuming sweet and sticky foods such as soda, cake, cookies and candy further increases your risk of cavities, just as it did when you were younger.