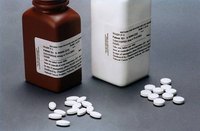 Tamoxifen is a type of SERM, or selective estrogen receptor modulator. Tamoxifen is used in breast cancer therapy. It is made of synthetic hormones, and according to the Mayo Clinic, the drug is also used in women who may have the risk of developing breast cancer. The drug works by blocking the production of estrogen. Since estrogen can create the production of cancer cells within the breast, tamoxifen is used in the chances of prevention or treatment if you have been diagnosed with breast cancer. Tamoxifen may have many side effects when taken.
Common Side Effects
Minor side effects of tamoxifen are fatigue, menopause symptoms such as hot flashes and night sweats. Other side effects may include vaginal discharge and mood swings. You may also experience muscle and joint pain, nausea/vomiting and weight loss. According to the National Cancer Institute, other bothersome side effects can include, headaches, irregular menstrual periods, and for men who take this drug, impotence may occur as well.
Blood Clots
In some cases, blood clots are a rare side effect as a result of taking tamoxifen. This usually only occurs in women who are taking chemotherapy with tamoxifen. The Mayo Clinic states that women who take the drug may have a chance of developing clots in their lungs or legs, but this is a very rare occurrence.
Cancer
According to the National Cancer Institute, two types of cancer can be the result of taking tamoxifen. Endometrial cancer (the lining of the uterus) and uterine sarcoma (muscular wall) can occur. In the cases where women who developed endometrial cancer while taking tamoxifen for breast cancer treatment, the end result was life-threatening. Abnormal bleeding and pelvic pain are symptoms of the cancers, and not the drug.
Serious Side Effects
Serious side effects of tamoxifen include rashes, loss of balance, blistering or peeling of the skin, swelling of the face, mouth or limbs. New lumps within the breast can also occur, but they are not cancer related. Jaundice can also occur, as well as blurring of vision or visual disturbances, coughing up blood, flu-like symptoms such as fever/chills and abnormal urine. These types of side effects require medical attention.
Other Effects
In minor instances, tamoxifen has been known to cause depression, and in very rare instances, stroke. In some cases, hallucinations may occur, though it is a very rare side effect. Men can experience a decrease in sexual desire, and women may experience a decrease in breast sensitivity. Sometimes hair loss can occur, and even a loss of interest in food.
Benefits
Many individuals who have taken tamoxifen may not experience any side effects at all. If your physician has prescribed this medication for you, the benefits and potential of the drug far exceed the risks. In early-stage breast cancer, the use of tamoxifen has reduced the risk of of developing cancer again in the same breast or even in the other breast.