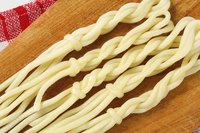 The perk of string cheese is that it is a protein-packed on-the-go snack you can enjoy any time. But the downside is that it can be high in fat. Look for brands that say "light" or "low fat." These varieties cut out about 40 percent of the total calories of your snack.
Calorie Counts
An average piece of string cheese weighs around 1 ounce, or 28 grams. A regular piece of string cheese of this size has 80 calories. You can cut your calories down to about 50 calories by opting for serving of light string cheese instead. In regular string cheese, the 6 grams of fat makes up nearly 70 percent of the total calorie count. However, a piece of light string cheese contains roughly 2.5 grams of fat, which makes up just 45 percent of the calories. The remainder of calories in string cheese come almost entirely from protein -- string cheese has only a trace amount of carbohydrates.
Saturated Fat Details
You've likely heard a time or two that you need to watch your saturated fat intake. Saturated fat has the reputation of being an artery clogger. This is why it's suggested that Americans get less than 10 percent of their calories from saturated fat, as stated in the Dietary Guidelines for Americans 2010. If you usually consume about 2,000 calories daily, you can have up to 22 grams of saturated fat. A piece of regular string cheese has 3.5 grams of saturated fat, but you can cut that in half by opting for light string cheese instead.
Protein Information
Nutrition facts labels include several nutrients and the amounts based on the daily values. These amounts are the required intakes for the average healthy adult. The daily value of protein for adults is 50 grams. Regular string cheese tends to have slightly more protein than lighter versions -- 8 grams versus about 7 grams of protein. This amounts to 16 and 13 percent of your daily value for protein, respectively.
Micronutrient Levels
The most prominent micronutrient in string cheese is bone-building calcium. One stick of regular or light varieties contains 20 percent of your daily calcium needs, based on the established daily values. Some brands of string cheese have small amounts of vitamin A -- usually less than 5 percent of your daily needs, though. Vitamin A is essential for healthy vision and eyes.