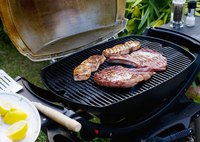 Iron-deficiency anemia is one of the most prevalent nutrient problems in the U.S. and worldwide. Causes vary, and certain populations are more at risk than others. The good news is that iron deficiency is easily reversed in most cases. If you suspect you're not getting enough iron, ask your health care provider to perform a test to check your levels. Taking in too much iron is harmful, though, so avoid using iron supplements without your doctor's guidance.
Iron Overview
Iron is necessary for your body to produce red blood cells. As part of a protein called hemoglobin, it assists in carrying oxygen from your lungs to the rest of your body. In addition, your muscles store iron so that when you engage in physical activity, they have enough oxygen to perform. You get iron from foods like red meat, organ meat, clams, soybeans, spinach and fortified cereals. It's recommended that men under 50 get 8 milligrams; women in the same age range need 18 milligrams per day.
Mild Deficiency Symptoms
In addition to the iron in your blood, your body stores iron in the form of ferritin. When blood levels run low, your body uses stored iron to meet its need. If intake or absorption remains inadequate, ferritin stores start getting depleted. At this early stage of deficiency, you may not have any symptoms, or you may feel a bit fatigued. When your ferritin drops below a certain level, you may experience chronic fatigue, weakness, headaches and dizziness, and your skin may appear pale.
Serious Deficiency Symptoms
As the iron deficiency progresses, you may experience sleepiness, ringing in the ears and irritability. Additional symptoms include spoon-shaped fingernails, an inflamed tongue and sores at the corners of the mouth. You may also become short of breath as your red blood cells decline, depriving your body of oxygen. Extreme levels of iron-deficiency anemia can cause chest pains, more severe headaches and leg pains. At this stage, anemia can be life-threatening due to the risk of heart failure and shock.
Populations at Risk
Infants ages 6 months and up and young children are at risk of iron deficiency due to rapid growth. Pregnant women sometimes develop anemia because they use more iron for the growing baby and their own increased blood volume. Iron loss during menstruation means adolescent girls and women of childbearing age may also be at risk. Vegans, who consume only plant foods, may develop low levels because iron from plants isn't absorbed as efficiently as iron from animal foods.
Testing
The only way to tell for sure if you're iron-deficient is for your doctor to order blood work to check your levels. If you're anemic, he or she will recommend treatment, which may include dietary changes, iron supplements or, if the deficiency is severe, iron infusions.