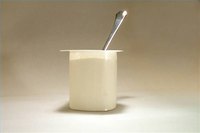 If you're tired of busting your budget on expensive cosmetic creams and facial treatments, consider going natural. While you probably already know that plain yogurt is a healthy snack, providing active cultures and improving immune function, you may not realize that it's also a gentle, inexpensive way to treat problem skin.
Reduce Bacteria
Yogurt has antifungal and antibacterial qualities, so it is useful for cleansing the skin and unblocking clogged pores. Use low-fat or whole-milk yogurt as a mild facial or body cleanser. Rinse with warm water, and pat skin dry.
Moisturize and Prevent Aging
Plain low-fat or whole-milk yogurt contains lactic acid, which softens the skin, reduces wrinkles and hydrates dry areas. Spread it liberally on your face, arms or legs and rinse with warm water after 15 to 20 minutes. After removing the yogurt mask, apply a noncomedogenic lotion to lock in restored moisture.
Soothe Sunburn
Apply plain, whole-milk yogurt to sunburned skin for a soothing, cooling effect. Rinse off the yogurt when it becomes warm. The fat content in whole yogurt helps rehydrate sunburned skin and reduce blistering and peeling.
Optional Ingredients
Yogurt is effective when used alone, but can also be combined with other ingredients for additional benefits. If dry skin is your concern, add grated carrots or a tablespoon of dry oatmeal and honey to the yogurt. Blend the mixture thoroughly, apply to skin for several minutes and rinse with warm water for a moisturizing effect.
If your skin is naturally dull or oily, add 1 to 2 teaspoons of lemon juice to plain yogurt to create your yogurt mask. Lemon exfoliates dead cells, clarifies clogged pores and brightens the skin. After application of the yogurt/lemon mixture, rinse with warm water and pat your skin dry.
Precautions
Some people experience a slight tingling with the application of yogurt to the skin. If, however, you feel burning, stinging or pain of any kind, immediately wash off the yogurt. You may be sensitive to the active cultures or lactic acid present in the natural product.
Remember, if you have dairy or alpha and beta hydroxy-acid allergies, you should not use yogurt for skin care.