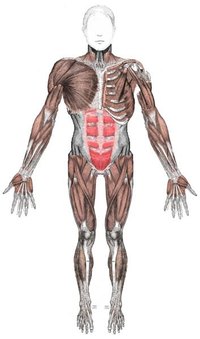 While the effects of an active lifestyle may include periods of acute muscle pain, prolonged chronic muscle pain may often be the result of a more serious medical condition. Many diseases, syndromes and ailments that include chronic muscle pain are often treatable and manageable if proper medical treatment is sought as soon as the symptoms initially arise.
Fibromyalgia
Fibromyalgia is a syndrome that confuses the medical community. While no one is certain of the correct underlying causes of fibromyalgia, the number one symptom is incessant, all-encompassing muscle pain. The muscle pain may be throbbing, shooting, stabbing, twitching or aching and may be further aggravated by sleep disorders, overwhelming fatigue, depression, vision problems, poor concentration, headaches and irritable bowel syndrome.
Diabetes
Diabetes can precipitate atherosclerosis in the body and hinder adequate circulation, which can eventually lead to muscle cramping and painful walking. Diabetes patients may also develop diabetic amyotrophy, a condition where patients with damaged nerves supplies to the feet and hands experience muscle decline around the hips and shoulders and develop muscle pain and twitching.
Guillain-Barre Syndrome
Guillain-Barre syndrome is a rare condition in which the body's peripheral nervous system is attacked by its own immune system. This disorder, which is found in more people in China and Japan than in the Western world, has symptoms of muscle tenderness, tingling sensations, progressive muscle weakness, acute neuromuscular paralysis, reflex dysfunction, back pain, stiff neck, pins and needles sensations and a host of other localized symptoms.
Thyroid Disease
Hyperthyroidism and hypothyroidism can contribute to chronic muscle pain. Both of these conditions can precipitate myopathies, diseases that disturb muscle tissue because of abnormal biochemical substances, metabolic conditions and inflammation. Hypothyroidism can create chronic muscle pain such as carpal tunnel syndrome, tarsal tunnel syndrome and tendonitis. Hyperthyroidism, or Graves Disease, patients may lose muscle strength and tone and incur difficulties holding objects, climbing stairs and reaching above their heads.
Dermatomyositis
Dermatomyositis is a disease that causes muscle weakness and inflammation as well as skin inflammation. The disease, which is more common in women than in men, strikes slowly in the muscles of the neck, upper arms and legs and gradually the muscles atrophy while permanently shortening them. These symptoms are accompanied by a grayish-red rash in localized areas of the body and a purplish swelling around the eyes.