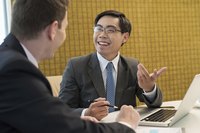 When you operate a small business as your sole source of income, interruptions to operations can devastate you financially. Business income insurance is a standard element of a business building insurance policy. It usually covers your lost income while your damaged property is repaired or replaced. Your policy may also cover income for a stated period of time after repair completion.
Additional Income Coverage Information
Business income insurance is also known as business interruption insurance. Even though this element is common in typical commercial property plans, you should ask your agent whether you have this coverage. If it isn't included in your basic property coverage, you could pay extra for an add-on or to get a separate business interruption policy.