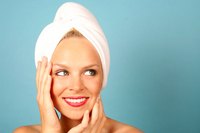 The skin gets its strength and flexibility from two structures. Composed of flexible protein fibers found within the dermis, these are called collagen and elastin. Collagen and elastin make up 70 percent of the dermis and are important proteins in the aging process.
The Dermis
The dermis layer of the skin is the inner, or underlying layer. Elastin is produced in this layer of the skin. It is highly sensitive and made of connective tissues. It is important to keep this layer of skin healthy to ensure elastin production. If elastin fibers become weakened the skin loses its tone and flexibility.
Production
Elastin is produced from vitamin C and amino acids. Small blood vessels in the skin nourish the protein fibers to maintain cell growth. Elastin is created by linking protein molecules with amino acids.
Aging
As we age, elastin production begins to slow. Degeneration of these fibers can lead to loss of skin hydration. The decline of elastin begins in the third or fourth decade of life. The levels of elastin eventually become too low to allow mature skin to repair itself.
Healthy Skin
There are several anti-aging creams that claim to boast helping elastin production. Creams sit on the surface of the skin and do not penetrate deep into the dermis layer to aid elastin production. A healthy diet and exercise can help prevent aging skin.
Environmental Damage
Environmental damage can cause elastin fibers to become weak. Sun damage and tanning are harmful to the reproduction of elastin. Frequent changes in weight can also cause elastin fibers to lose their strength.