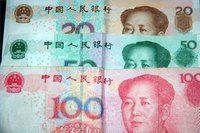 The foreign currency exchange markets are where money from different countries are bought and sold. The focus of foreign currency exchange is the facilitation of international commerce. Foreign currency exchange markets can also function as a method of making investments, can be used by governments to impact the value of their currency and can help companies reduce losses due to changes in exchange rates.
Primary Function
The primary function of foreign currency exchange markets is to convert the currency of one country into another currency. For example, the U.S. dollar may be changed into Mexican Pesos or English Pounds. The amount of currency converted depends on the exchange rate, which can be fixed or can fluctuate. The U.S. dollar is a currency that has a fluctuating exchange rate that is based on market demand. Some countries, like China, have a fixed exchange rate determined by their central bank.
International Transactions
Foreign currency exchange markets serve to facilitate international financial transactions. These transactions may be the purchasing and selling of goods, direct investment in buildings and equipment in a foreign country or the purchase of investment vehicles like foreign bonds. For example, a U.S.-based company may want to purchase goods manufactured in China. The foreign currency exchange market allows them to exchange U.S. dollars and make the purchase in Chinese RMB (renminbi, the currency of the People's Republic of China).
Currency Value
The value of a country's currency can influence international trade, consumers' purchasing power and inflation. Central banks of a county or region, like the U.S. Federal Reserve, seek to minimize the impact of currency fluctuations. The foreign currency exchange market functions as a tool for central banks to control the value of their currency by buying or selling currency, which influences the total amount in worldwide circulation.
Investment
Fund managers and investment professionals use the foreign currency exchange market to help diversify their portfolios and potentially increase their returns. Through calculated risks, investors can bet on a change in the price or exchange rate of a currency. Just like with the stocks, if currency is purchased at a low price and sold at a higher price, the investor makes money.
Loss Protection
International companies that work in multiple countries are subject to gains and losses based on exchange rate fluctuations. To help prevent losses, companies can make forward transactions where they make a binding agreement to exchange currency for another currency at a fixed rate. This function of the foreign currency exchange market helps a company minimize the risk of foreign exchange on future expenses. For example, if a U.S.-based company places an order with a firm in Taiwan that will be ready in five months, the company can enter a forward transaction agreement that fixes the price based on the current exchange rate at the time of order. The company knows the value and cost of the purchase and will not be hit with a future loss based on a change in exchange rates.