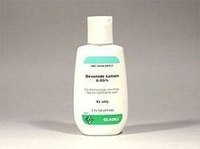 Desonide is a topical corticosteroid that is often prescribed to treat mild to moderate itching, discomfort, swelling and redness caused by various skin conditions. It works by activating some of the body's natural substances to reduce these symptoms, according to the National Institutes of Health. It is available as a lotion, cream or ointment. Desonide lotion is sold under the brand names DesOwen and LoKara.
How to Use
Desonide lotion is usually applied two or three times a day, at about the same time every day. Shake the lotion to ensure it's mixed, then apply the amount prescribed over the affected skin area and rub it in. Do not bandage this area unless your doctor tells you to. Desonide lotion should be used only directly on the skin; keep it away from your eyes, nose and mouth, and never swallow it. Your skin should improve within two weeks of using desonide lotion.
Precautions
Before using desonide lotion, tell your doctor if you are allergic to desonide or other medications, and tell him about any other medicines you are taking (including vitamins, nutritional supplements and herb-based products), particularly any that suppress the immune system. Also tell your doctor if you are pregnant, breast-feeding or plan to become pregnant; or if you have a history of diabetes, Cushing's syndrome, circulation problems or any condition affecting your immune system.
Side Effects
Using desonide lotion may cause side effects including stinging, burning and/or itching skin, irritation, dryness and peeling. If these symptoms are severe or do not disappear with time, tell your doctor. Less common but potentially more serious side effects are redness, swelling, severe rash and oozing pus or other indications of infection in locations where you applied desonide lotion. If you notice any of these symptoms, contact your doctor immediately. Children using desonide lotion may experience other side effects, including delayed weight gain and slowed growth. These risks should be discussed with your child's doctor before using the lotion.
Storage
Desonide lotion should be stored in the container it came in, closed and away from too much heat and moisture (the bathroom is probably not a good place for it). Keep it at room temperature and out of the reach of children. After desonide lotion expires or is no longer needed, throw it away.
Overdose
You could receive an overdose of medication if you apply too much desonide lotion or use it for longer than prescribed. Desonide lotion overdose symptoms can include changes in your vision, muscle weakness, intense or persistent headache, high blood sugar indications and unexpected weight gain, particularly in the face, according to Drugs.com. If you suspect an overdose of desonide lotion, call your doctor or go to the emergency room.