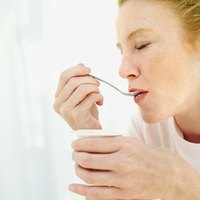 People take probiotics supplements for potential digestive health benefits. Commercial probiotic supplements contain live strains of microorganisms that are identical or similar to those normally found in your intestinal tract. Probiotics are also found in foods such as yogurt. Before taking supplements of any kind, talk to your doctor and follow his guidance, as they may cause unwanted side effects.
What They Are
Your intestines are host to diverse colonies of microorganisms believed to contribute to health. This population of "friendly" critters is part of what's known as your gut flora or gut microbiota. Theses microorganisms may boost the immune system, prevent the overgrowth of harmful bacteria, strengthen the intestinal lining and reduce the release of toxins. Probiotics may also produce B vitamins, which play a role in generating energy from food and keeping your nervous system healthy.
How They're Used
Probiotics are most commonly used for general digestive health since they can aid digestion by keeping food moving through your intestinal tract. Some people use probiotics to reduce the symptoms of irritable bowel syndrome and inflammatory bowel diseases like ulcerative colitis and Crohn's disease. The probiotic strains Lactobacillus rhamnosus and Lactobacillus casei may help treat diarrhea caused by rotovirus in children and infants, according to the American Gastroenterological Association.
Evidence for Digestive Health
The Proceedings of the National Academy of Sciences published findings demonstrating ways probiotics benefit intestinal health in its January 2010 issue. Researchers studied the effects of a probiotic supplement and found that probiotics stimulate the intestinal immune response and prevent intestinal inflammation.
A separate study reported in the JAMA journal in May 2012 concluded that probiotics prevent diarrhea caused by taking antibiotics. The authors note that more research is needed to determine which particular strains are beneficial for this purpose.
Probiotic Food and Supplements
Kefir and yogurt are two of the best sources of probiotics. Check the food label to make sure the brand you choose has live and active cultures. Other probiotic sources are fermented foods like miso soup, tempeh and kimchi. Food and commercial supplements typically contain Lactobacillus or Bifidobacterium strains but may also contain other species.
Supplements may not be safe for seniors or people with impaired immune systems, and they might interact with medications. Talk to your doctor before changing your diet or taking probiotic supplements.