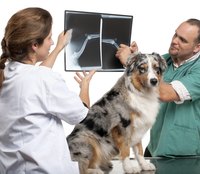 Your dog's tail consists of vertebrae with disks in-between, nerves and muscles. Though its range of motion is certainly much greater, his tail is basically a continuation of the spine. The tail is prone to the same types of injuries as the spine: broken vertebrae, nerve damage and muscle aches. Because the tail is extended from his body, injuries may be more common. If you suspect that your dog has a tail injury, consult with your veterinarian.
Broken Tail
The vertebrae in your dog's tail can be crushed or fractured in similar ways that you might break your arm. Your dog might break his tail when:
His tail is crushed in the car door as it closes.
Someone steps on his tail while he's snoozing on the floor.
He doesn't get through the front door fast enough and his tail is caught in the door.
He falls or jumps from an elevated surface and lands on his tail.
He's hit by a car.
Another dog bites his tail.
Tails can't be treated with casts or splints but most heal on their own, especially if the break is near the tip of the tail. Some tails will heal with a permanent kink or angle. In some cases, your dog's tail may need to be amputated if the lower vertebrae are crushed. Have your dog evaluated within 24 hours of injury.
Limber Tail Syndrome
For humans, that first 5-mile hike in the spring can cause sore leg muscles, especially if you've spent the winter on the couch. Your pup's tail muscles can suffer the same soreness with a condition called limber tail syndrome when they're overexerted.
Sporting dogs such as golden retrievers and Labradors are particularly prone to this condition, due to their long tails and tendency to be exercised over long distances.
Suspect limber tail syndrome if you've just returned from a strenuous hunting or training outing and your pup's tail is drooping or unable to wag. He may exhibit pain when he sits. Luckily, the condition is temporary and should go away within a few days without treatment. Your veterinarian can provide a cortisone shot or pain medication.
Nerve Damage
The nerves in your dog's tail extend from his spine to the tip of his tail. Damage can occur if the tail is crushed or stepped on or if your dog is hit by a car. Extensive nerve damage may be caused when the tail is yanked hard or abruptly.
Nerve damage can have serious side effects. The nerves that branch out to the tail also affect the anus and bladder. Your dog may become incontinent or have trouble with bowel movements. While some nerve damage heals itself slowly over time, other damage is not reversible.
Signs of nerve damage include the inability to move the tail and difficulty with urination and bowel movements. Seek immediate veterinary care if you suspect a nerve injury.
Happy Tail Syndrome
Happy tail is a misleading name for a syndrome that is very serious. It occurs in a dog who wag his tails constantly, hitting it repeatedly against floors or walls. It's common in dogs with long, skinny tails, such as greyhounds. Happy tail syndrome results in abrasions or bloody ulcers, usually on the tip of the tail.
Visit your veterinarian to ensure your dog's condition can be managed without surgery. If so, bandage your dog's tail to allow the ulcers to heal. If your dog won't leave the bandage alone long enough for the condition to heal, the tip of his tail may require amputation.