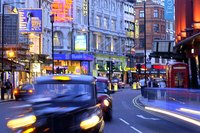 Although weather is something of a national obsession in the United Kingdom, the climate in London and the southeast is surprisingly temperate and unobtrusive, if a little unpredictable. Visitors following popular culture might come to the capital expecting drizzle and smog, but neither is typical. In fact, smog has largely been absent from "The Smoke" -- a colloquial name for London -- since the 1950s. With London's unrivaled spread of attractions, visitors generally are largely unaware of the weather. On those days when the mercury soars or the clouds open, options for beating a retreat are abundant.
Peak Season
Summer temperatures average 64 degrees Fahrenheit, although so-called heatwaves -- during which temperatures reach a modest 86 degrees -- are not uncommon. Evenings in July and August are sometimes humid and sultry, while travel on the Tube, London's subway, can be stiflingly hot since there is no air-conditioning, an oddity that visitors will also notice in many of London's hotels and buildings.
Luckily, London provides plenty of opportunity to escape both the summer heat and the crowds. Parks are scattered across the capital, with Shakespeare in the Park a seasonal treat at the Regent's Park Open Air theater. Most restaurants and cafes also move some of their tables onto outside terraces for some alfresco dining. While lines are longest at the London Eye, Tower of London and Madame Tussaud's over summer, this is the only time you can visit Buckingham Palace. Come August, the Notting Hill Carnival heralds one of the world's largest street parades.
Ideal Time to Visit
Lonely Planet recommends spring and fall, when temperatures average 52 to 59 degrees, as the ideal seasons to visit London. Not only are the crowds significantly down, but hotel prices and air fares can be up to 20 percent lower.
From March to October, British Summer Time also makes for longer evenings. As the nights close in and evenings turn chilly, the West End theater scene comes into its own from September to May, along with opera and ballet. Look out also for the Museums at Night series, during which the capital's museums and galleries put on a program of special after-hours events.
Bracing morning temperatures and overcast skies make April the perfect month for two key London events, the Boat Race on the River Thames and the London Marathon.
Mild Winters
Winter temperatures average 36 to 43 degrees, meaning snow and ice are rare in the capital, but there is an artificial ice-skating rink at Somerset House on The Strand during the holiday season for a bit of seasonal fun. However, evenings and mornings can be bitingly cold, especially along the Thames, and the sun rarely seems to venture through the clouds. The focal point for Christmas celebrations in the capital is Trafalgar Square, dominated by a spruce tree donated by Norway each year. The square is also the hub of New Year's Eve celebrations, but crowds are formidable. Keep in mind that public transportation operates on a reduced schedule over some of the holiday period. Chinatown in central London comes alive in February for Chinese New Year celebrations, while the London Film Festival in October puts on a 12-day program of premieres and events.
London Weather Myth
Despite Britain's reputation as the spiritual home of gray, rainy weather, it rains on average only 11 to 15 days a month in London, with November and August the wettest months. When it does rain, a slow and persistent drizzle is the norm, but summer brings the occasional spectacular thunderstorm. March and April are the driest months. Wet days in London can be a blessing in disguise, either as an opportunity to hole up in a centuries-old pub over a pint of warm beer or to decamp to world-class museums and art galleries, which are nearly all free. London's top three visitor attractions -- the British Museum, National Gallery and Natural History Museum -- are all free, although some exhibitions require advance tickets.