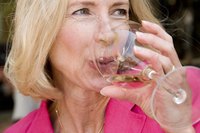 What you eat and drink can have an effect on your cholesterol levels. With alcohol, this can be a beneficial effect. This doesn't mean you should drink as much alcohol as you want, however, as drinking more than a moderate amount can have adverse effects on your health. Speak with a doctor to determine what amount of alcohol, if any, you can safely drink.
Alcohol and Cholesterol
Drinking a moderate amount of alcohol -- no more than one drink per day for women or two drinks per day for men -- may help lower your low-density lipoprotein, or "bad" cholesterol while raising your high-density lipoprotein, or "good" cholesterol, according to the State University of New York at Potsdam. HDL helps bring cholesterol to your liver, which removes it from your body, while LDL cholesterol brings it to the cells, increasing your risk for clogged arteries and heart attacks.
While alcohol has beneficial effects on HDL and LDL, it may raise triglycerides -- another type of fat in your blood -- according to a study published in Diabetes Care in October 2007. Having high triglycerides increases the risk for heart disease and stroke. Alcohol doesn't necessarily increase triglycerides in everyone, however. Another study, published in Diabetes Care in December 2004, found that mild to moderate drinking made having high triglycerides less likely, so research is still conflicting on this issue.
Intake Considerations
Drinking more than a moderate amount of alcohol may have adverse effects on the health of your brain, heart, liver and immune system and cause gastrointestinal and psychiatric problems. If you don't already drink alcohol, don't start just so you can reap the potential heart and other health benefits. Alcoholics and people with an increased risk for alcoholism shouldn't drink at all.