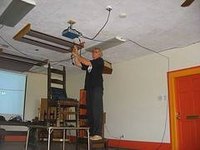 Job training comes in a variety of forms, and each of them have advantages and disadvantages. One popular form is on-the-job training, which occurs while a person is actually working at a business or workplace. This type of training can be facilitated or performed by a manager, a supervisor or even by another employee who knows the job well enough to teach it. On-the-job training is cost-effective and helps the employee learn the specific business.
Definition
On-the-job training is defined as gaining knowledge and learning aspects about a job while actually working at that specific job. This arrangement works well for apprentices such as construction workers who can begin as laborers and work side by side with a highly skilled worker, thus learning the job while doing it. On-the-job training occurs in the particular working situation that an employee will be in daily.
Comparisons
On-the-job training differs from off-the-job training. Off-the-job training occurs at a location other than the one where the employee will be working. This type of training can take place in a classroom or in a conference room, either at a corporation, a designated learning center or via the Internet.
Advantages
There are distinct advantages of on-the-job training. The first advantage is that the employee is obtaining revenue for the company or business while he is working and the company is benefiting while the employee is learning. If the employee were sent off-site, he would not be earning revenue for the company.
Also, the employee can be monitored at all times while he is training. If he is working as a cashier, another cashier can be standing by observing and ready to answer questions. If the employee is training to be a waiter, he can follow a current wait staff member and observe and assist with customers. Managers or supervisors are on site to give feedback and guidance to new employees while they are training on the job. If you send an employee off-site to train, you won't have the luxury of being able to give immediate feedback. Also, the employee is working in real time and can see firsthand exactly how things are done at the company.
Cost Savings
Cost savings is another advantage of on-the-job training. Companies will not need to go to the expense of sending the employee to off-site training. This can be particularly expensive if off-site training is held in another city. Expenses such as car rental or airplane travel can add up. Another advantage is that no extra or separate materials will have to be purchased for training. The materials that the employee will be using for the job are likely already on hand.
Disadvantages
There are some disadvantages to on-the-job training. One big disadvantage is the time it takes to train a new employee. Training a new employee can slow down whomever is training that person, as he will need to answer questions and repeat tasks along the way. There may also be difficulty finding the right person to train the new employee. Some employees may be very good at their job but don't possess the right attitude or have the willingness to take on the responsibility. Oftentimes, it is best to leave certain training aspects, particularly having to deal with sensitive information or finances, up to a manager or supervisor.