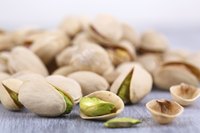 Regularly eating pistachios may help lower your risk of diabetes, high blood cholesterol, heart disease and hypertension. According to the U.S. Department of Agriculture, a serving of nuts is equivalent to 1/2 ounce, or approximately 24 pistachios. Although pistachios are rich in protein and heart-healthy poly- and monounsaturated fats, their high caloric content can lead to weight gain if you're not careful to eat them in moderation. Nutrition specialist Dr. Melina Jampolis recommends limiting your total nut consumption to about 1/4 cup, or 2 ounces, per day.
May Help Control Blood Glucose Levels
A study published in 2014 in Diabetes Care examined the effect of pistachio consumption on prediabetic subjects who had elevated blood sugar. After eating 2 ounces of pistachios daily for several months, the participants had lower blood sugar and insulin levels than the control group individuals who consumed the same average number of calories per day, but no pistachios. An earlier study, published in 2011 in the European Journal of Clinical Nutrition, demonstrated that eating pistachios with a high-carbohydrate meal containing foods like mashed potatoes could help prevent post-meal blood glucose spikes.
Might Lower High Cholesterol
A diet that's low in saturated fat but high in the mono- and polyunsaturated fats provided by pistachios may lower your total and LDL, or "bad," cholesterol, reported a study published in the American Journal of Clinical Nutrition in 2008. The study's subjects experienced the biggest decrease in their cholesterol level -- an 8 percent drop in total cholesterol and a 12 percent drop in LDL cholesterol -- when they consumed two servings of pistachios each day. A Journal of Nutrition study published in 2010 theorizes that this effect may be due to pistachios' high concentration of antioxidant compounds.
Can Aid with Weight Loss
Pistachios can help you feel satiated and keep you fuller longer, says a review article from the April 2012 issue of Nutrition Reviews. That may be because of their high fiber and fat content. Each ounce of dry-roasted pistachios contains almost 3 grams of fiber and 13 grams of fat, most of which is contributed by monounsaturated fat. A 12-week study that explored the effect snacking on pistachios or pretzels has on weight loss found that the subjects who ate the pistachios lost more body mass than the pretzel snackers. The study was published in the Journal of the American College of Nutrition in 2010.
Possibly Reduces Blood Pressure
Pistachios are a source of potassium and magnesium, two minerals that play a role in regulating blood pressure. An ounce of pistachios supplies approximately 6 percent of an adult's recommended daily allowance of potassium and between 7 and 10 percent of the magnesium requirement. Study subjects who ate 1 1/2 ounces of pistachios a day had lower blood pressure than subjects consuming a low-fat diet without pistachios and subjects consuming about 3 ounces of pistachios each day, found a Hypertension study published in 2012.