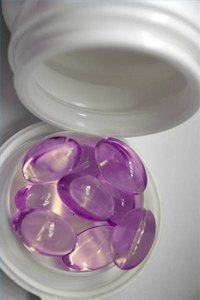 Dementia can be triggered by a variety of factors, from disease to stroke to chronic drug use. Some forms of dementia are treatable and may even be reversed if caught early enough. A study by Joseph G. Hattersley in November 2002 (see reference 1) reveals that Vitamin B12 may cure people diagnosed with a Vitamin B12 deficiency, which is a common cause of dementia in the elderly.
Types of Dementia
When parts of the brain that involve learning, decision-making, memory and language are affected by disease or infection, dementia can occur. The Cleveland Clinic says the most common cause is Alzheimer's disease, but there are up to 50 other known causes.
Most types of dementia will not respond to treatment, but at least 20 percent of treatable causes can be cured. Vitamin B12 deficiency, if diagnosed early enough, is one of them.
Importance of Vitamin B12
This vitamin, found in all animal products and fortified cereals, helps prevent levels of homocysteine, an amino acid in the blood that increases the risk of Alzheimer's and vascular diseases (see reference 2). Vitamin B12 helps maintain healthy nerve cells, while a deficiency in this essential vitamin can cause memory loss and hinder other brain functions.
Vitamin B12 Deficiency Causes
Vitamin B12 deficiency is most common in the elderly, but it is not uncommon in vegetarians. Because this vitamin is only found in animal products, vegetarians take supplements to ensure they receive the proper amount to stay healthy.
The normal range of Vitamin B12 in healthy blood serum is 600 to 2000 trillionths of a gram per milliliter (pg/ml) (see reference #1). All mammals, humans included, are born with 2000 pg/ml serum levels of B12, but these levels gradually decline with age. Deficiencies appear in the cerebrospinal fluid when serum levels fall below 550-600 pg/ml. This is why Vitamin B12 injections are often given to patients over 60 years of age.
In addition to natural depletion over time, Vitamin B12 deficiency can result from alcoholism and prolonged diarrhea. Some medicines can interfere with natural absorption of Vitamin B12, as can chronic parasitic intestinal infestations like tapeworms.
Other Hazards
Not only can a deficiency in this essential vitamin cause dementia, it can also cause depression, bipolar disorder, nerve damage and anemia. For dementia patients, if a Vitamin B12 deficiency is prolonged, reversal may be impossible.
Vitamin B12 for Treatable Dementia
If discovered early, 75 percent of Vitamin B12 deficiency dementias can be reversed. The study done by Joseph G. Hattersley suggests a supplement of 2000 to 2500 pg be given to patients sublingually every day after breakfast and dinner.
There is no evidence that Vitamin B12 can enhance the memory of Alzheimer's dementia patients, but good nutrition that includes a healthy dose of this vitamin is warranted. Although Vitamin B12 cannot cure Alzheimer's, Dr. John V. Dommisse of Tucson, Arizona, has confirmed that Alzheimer's will result from Vitamin B12 deficiency.