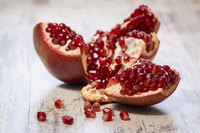 Most people can enjoy pomegranate juice and fresh pomegranate arils, which are the edible seeds and juice sacs, without worrying about side effects. In spite of pomegranate's overall safety, it can interact with medications and should be used cautiously in people with medical conditions such as diabetes. Be aware that the root and bark contain toxic substances, so don't use products that include either one in the ingredients
Different Forms of Pomegranate
You can safely drink up to 12 ounces of pomegranate juice daily, reports the University of Maryland Medical Center. It takes the arils from three large pomegranates to yield about 12 ounces of juice, so you probably won't eat enough fresh fruit to exceed the safe amount. Both have the potential to cause similar side effects if you consume too much.
Some pomegranate supplements only contain ellagitannin, or ellagic acid, which is one of the antioxidants in pomegranates. A study published in November 2007 in the "Journal of Agricultural and Food Chemistry" found that this form of pomegranate did not cause side effects. More research is needed to verify their safety, however.
Health Concerns
While pomegranate juice is safe for pregnant women, they should not consume pomegranate extract due to concerns it might contain a small amount of the toxic rind, reports the University of Maryland Medical Center.
Pomegranate might lower blood pressure, so consult your health care provider before consuming any form of the fruit if you already have low blood pressure. If you're scheduled for surgery, stop consuming pomegranate two weeks ahead of time due to its potential impact on blood pressure.
Medication Interactions
Pomegranate juice can interfere with liver enzymes that metabolize many different types of medications. Protect your health by talking to your physician before consuming pomegranates if you take prescription medications. This is especially important if you take angiotensin-converting enzyme inhibitors, blood-thinning medications or medications used to lower blood pressure.
Pomegranate juice has varying effects depending on the medication. It may boost the strength of ACE inhibitors and increase the risk of bleeding for people on blood-thinning medications. In rare cases, pomegranate juice may cause kidney damage if you're on cholesterol-lowering medications known as statins.
Allergic Reaction
Pomegranates can cause allergic reactions, according to the American Academy of Allergy, Asthma and Immunology. People with a pomegranate allergy may also react to peaches, hazelnuts, peanuts and walnuts because they have the same proteins. A reaction to pomegranates may range from skin and respiratory symptoms to life-threatening symptoms such as difficulty breathing and low blood pressure.
You may be sensitive to pomegranates if you're allergic to plants, reports MedlinePlus. This type of cross reaction is known as oral allergy syndrome. Symptoms are usually limited to the mouth and go away quickly.
Beware of Sugar and Calories
If you eat 1/2 cup of arils from a fresh pomegranate, you'll get 12 grams of sugar and 72 calories, reports the U.S. Department of Agriculture. By comparison, 1 cup of pomegranate juice has 32 grams of sugar and 134 calories. This number of calories from one drink can easily play havoc with your daily calorie goals and lead to weight gain.
Even though the sugar in pure pomegranate juice is natural rather than added, 32 grams is the equivalent of 8 teaspoons of granulated sugar. The University of Maryland Medical Center recommends consulting with your health care provider before drinking pomegranate juice if you have diabetes.