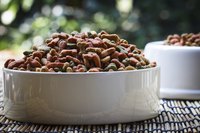 Reading pet food labels can be confusing, particularly when you come across an ingredient such as ash, which seems like an odd thing to put in animal feed. However, animal feed manufacturers aren't adding cinders to your pet's diet; they're referring to what's left over after the ingredients have been cooked.
Ash is Mineral Content
Most pets eat a diet containing animal-based protein. Unless your nonvegetarian dog or cat is eating a raw diet, he will encounter ash in his food. As the ingredients are incinerated, the protein, carbohydrates and fat are burned away, leaving minerals behind. This residue, or ash, is comprised of minerals such as zinc, phosphorous and calcium; it's the total amount of minerals in your pet's food. Though the label doesn't inform you about the specific mineral content in the food -- for example, how much calcium or iron is in the food -- it does serve as a guideline for pet owners who need to monitor their pet's mineral intake. For example, a cat with urinary tract issues may benefit from a diet with a lower mineral content, reflected in a diet lower in ash. If you are concerned about the ash content in your pet's food, talk to your vet to learn if your cat or dog has special needs.