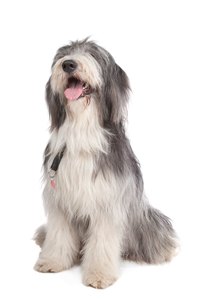 Addison's disease can be tough to diagnose because its symptoms mimic those of other diseases. A dog may go through phases of lethargy and gastrointestinal upset, or he may not be his normal, happy-go-lucky self. That's because his adrenal gland, responsible for the adrenalin rush, isn't functioning properly. It's behind the flight-or-fight response, providing the jump start for a proper response to stress. If your dog's isn't working, it explains why he's been off his game.
The Adrenal Gland and Addison's Disease
Sitting in front of his kidney, your dog's adrenal gland has two areas: the medulla in the center and the cortex, which surrounds the medulla. The cortex produces corticosteroids to help him respond to stress. Occasionally, a dog's cortex may not produce the hormones necessary for a response to a stressful situation, which is what happens to a dog with hypoadrenocorticism, or Addison's disease. Certain medications, such as ketoconazole, can disrupt the production of corticosteroids, but usually the cause of Addison's disease is unknown.
Addison's disease is unusual in dogs, but when it presents it tends to occur in dogs who are female and young to middle-aged. Portuguese water dogs, bearded collies, standard poodles, Rottweilers, wheaten terriers and West Highland white terriers tend to be more vulnerable to hypoadrenocorticism.
Symptoms of Addison's Disease
A dog with Addison's disease will appear lethargic and perhaps experience diarrhea or vomiting -- he's just not on his game. A dog may drink and urinate more, eat less and drop weight, and experience pain in his back legs. Other symptoms include tremors, depression, dehydration, low temperature, muscle weakness and hair loss. His symptoms may come and go according to stress levels, though eventually he'll experience an Addisonian crisis, when he collapses from shock because his body can't properly respond to stress.
A dog in crisis experiences very low blood pressure and an irregular heartbeat because his heart function has been disrupted by too much potassium. His creatinine and blood urea nitrogen are elevated, often putting him into kidney failure, and his blood sugar may become critically low. Rehydration therapy works wonders for a dog in crisis, which indicates an adrenal gland problem instead of kidney failure.
Diagnosing Addison's Disease
Diagnosing Addison's disease can be tough because it mimics so many other conditions; most dogs are diagnosed at the point of their Addisonian crisis. A dog in Addisonian crisis requires veterinary attention, and treatment may overcome the effects of the disease that would be evident in routine blood tests.
The ACTH stimulation test is the only definitive test for hypoadrenocorticism. This test administers a dose of ACTH, the hormone responsible for releasing corticosteroids when necessary. A non-Addisonian dog will respond to ACTH with higher levels of cortisol, while a dog with Addison's disease has no response since his cortex isn't producing corticosteroids.
A false positive is possible if a dog has experienced an Addisonian event and has been treated with corticosteroids within a few days of the test.
Managing Addison's Disease
An Addisonian event is a veterinary emergency requiring immediate treatment. Intravenous fluids are commonly administered, and hormone replacement is necessary. After a diagnosis of hypoadrenocorticism, a dog requires regular hormone supplements. An oral medication is one option, administered once or twice a day, compared with the injectable option, administered approximately every 25 days. The medication is often supplemented during stressful events, such as before a trip or prior to surgery.
During the first four weeks of hormone replacement, weekly veterinary visits are required to monitor hormone and electrolyte levels to determine a proper dosage. The dog will require blood tests between two and four times a year, depending on his condition, to ensure his dose is adequate.