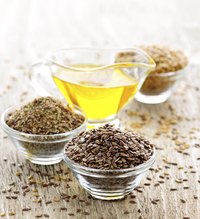 Flaxseed is rich in omega-3 fats and compounds known as phytoestrogens, which have effects similar to the female hormone estrogen, only weaker. The oil portion is rich in alpha-linolenic acid, an essential fat that may promote heart health. Consuming flaxseed whole or ground has added benefits, since it contains not only the oil but other beneficial components like fiber and lignans, which are similar to fiber.
May Reduce Breast Cancer Risk
Flaxseed oil appears to have anti-cancer properties, according to a study published in the October 2010 issue of the journal Molecular Nutrition and Food Research. Researchers evaluated the effect of flaxseed oil on a human model of estrogen-receptor positive breast cancer in mice. In this type of breast cancer, the hormone estrogen promotes tumor growth. The results show flaxseed oil significantly reduced tumor size, helped to prevent tumors from spreading and increased death in tumor cells, although additional studies are needed in humans.
May Protect Bone Health
When you go through menopause, estrogen levels drop, which speeds the rate of bone loss, increasing your risk for osteoporosis. It's known that components of your diet such as foods rich in vitamin D and calcium protect bones. Scientists say that adding flaxseed may offer similar benefits as well, but human studies are needed to know for sure. In an animal experiment, researchers found that flaxseed oil reduces the risk of osteoporosis in rats that had their ovaries removed. The authors assert that menopausal women with diabetes are at an even higher risk of osteoporosis and that flaxseed oil may offer protection for them too. The study was published in the 2009 issue of the International Journal of Food Safety, Nutrition and Public Health.
Other Female Benefits
Omega-3 fatty acids, such as those in flaxseed oil, may help prevent and treat other female issues, according to a review published in the October 2004 issue of the journal Obstetrical and Gynecological Survey. Boosting your intake of omega-3 fats reduces painful menstrual cramps by lowering the amount of inflammatory omega-6 fatty acids in your body, say the authors. In addition, omega-3 fats help prevent postpartum depression and pre-eclampsia -- a condition that occurs in pregnancy when blood pressure becomes dangerously high.
Adding Flaxseed or Oil to Your Diet
Flaxseed is available whole, ground and as the oil by itself. A good place to start is to replace saturated fat in your diet with unsaturated oils such as flaxseed.
Unlike other oils, flaxseed oil may turn rancid unless refrigerated, and it can go bad when heated. For this reason, flax oil is typically drizzled over salads, hard-boiled eggs or other foods so that it remains cold or at room temperature. If using ground flaxseeds, which have a nutty taste, try adding them to yogurt, oatmeal, smoothies or hot cereal. Keep in mind that whole flaxseeds may be harder to digest.