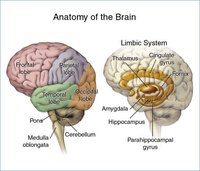 Strokes can affect any part of the brain, and occur due to the interruption of blood flow to these areas. Strokes are categorized as ischemic, which is caused by a blocked artery or blood vessel or hemorrhagic, due to a hemorrhage or burst in an artery or blood vessel. Cerebellar strokes affect the cerebellum, which is the area of the brain that controls balance and movement. These strokes require immediate neurological attention as they are serious and life-threatening.
Headache, Vertigo, Nausea, Vomiting
Although headache, vertigo, nausea and vomiting occur with many illnesses, the onset of these symptoms is sudden and severe in cerebellar stroke patients. Vertigo presents itself as dizziness or the sensation of spinning surroundings, and leads to nausea and vomiting. Headaches associated with cerebellar stroke are intense, persistent and debilitating.
Eye Changes
Eye symptoms are common in cerebellar stroke patients, because the cerebellum coordinates eye movement. These symptoms typically affect only one eye and contribute to vertigo. Problems affecting the eyes include a rapid/slow movement or tremor of the eyeball (nystagmus), drooping eyelids (ptosis) and constricted pupils.
Dysarthria and Dysphagia
Dysarthria is a motor disorder of speech caused by a cerebellar stroke weakening the muscles of the mouth, face and respiratory system. Speech may be slurred, slow, monotonous and hoarse. There may also be drooling and difficulty chewing or swallowing (dysphagia) due to incoordination or weakening of the throat and esophageal muscles.
Ataxia
Ataxia is a loss of balance and coordination while walking, and is a common symptom in cerebellar strokes. Patients experiencing ataxia walk as if intoxicated; feet are set widely apart and patients wobble or lean to one side. Alcohol use during a cerebellar stroke further impedes cerebellar function and increases the intensity of symptoms.
Arm Weakness and Incoordination
Cerebellar stroke victims exhibit clumsiness, incoordination and weakness, usually in only one arm. Trembling hands and arms inhibit the ability to perform tasks, such as picking up and holding a cup. A primary test for stroke involves the patient raising both arms to determine if one is held dramatically lower than the other due to trembling, weakness and incoordination.
Coma
Patients with acute hemorrhagic cerebellar strokes may lapse into a coma. Brainstem compression by cerebellum hematoma (blood clot), hydrocephalus (fluid on the brain) caused by the stroke or herniation of cerebellar tissue are responsible for the onset of a coma. Recovery for cerebellar stroke patients in this stage depends on urgent medical care, as death is possible.