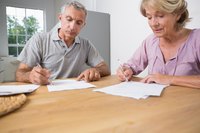 Insurance companies have two basic forms of organization and ownership: stock insurance companies and mutual insurance companies. Stock-based insurance companies are like any other corporation; they are owned by their shareholders. Mutual insurance companies differ in that the individual policyholders have established and delineated ownership rights in the insurer.
History
The first insurance companies in the United States (as well as in some other nations) were organized on a cooperative or mutual basis. These organizations that provided insurance to their members often were called "mutual associations." From these early mutual organizations grew the insurance industry as it exists today.
Features
The primary feature of a mutual insurance company is the different ownership rights that attach to individual policyholders. For example, the policyholders have the right to elect the company's management and theoretically are entitled to the net assets of the company should it stop doing business. Additionally, in many instances, mutual insurance companies have been able to keep their premium rates lower than comparable stock insurance companies because mutual enterprises don't have to worry about shareholder return and profits.
Geography
Five large nations still have mutual insurance companies in operation--the United States, Japan, United Kingdom, Germany and Spain. Mutual insurance companies were in business in South Africa for an extended period of time, but there are none in operation today. All these countries have seen a significant number of mutual insurance companies go through a process known as demutualization.
Demutualization
Demutualization involves mutual insurance companies converting their structures to stock-based enterprises. The primary motivation for the demutualization trend is that a stock insurance company is in a better position to raise capital. Mutual insurance companies are limited in their ability to generate capital by the nature of their organizational structure and policyholder-based ownership.
Leading Mutual Insurance Companies
Many policyholders are unaware that they are part of mutual insurance company, but some large insurance companies are organized on a mutual basis, including Mutual of Omaha, State Farm and American Family in the U.S. and the Equitable Life Assurance Society in the United Kingdom. (State Farm operates both stock and mutual insurance companies.)