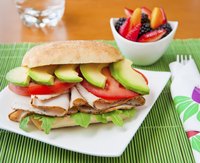 Although they don't taste sweet, avocados are fruits belonging to the berry family. They're also high in fat, which is unusual for fruit. But like other fruits, avocados are rich in nutrients that support good health.
Full of Heart-Healthy Fats
While avocados are high in fat, most of it is unsaturated fat, specifically monounsaturated fat. Half of an avocado contains about 14 grams of fat, 10 grams of which are monounsaturated. For overall good health, most of your dietary fat should come from foods high in unsaturated fat like avocados, according to the American Heart Association.
The association reports that replacing saturated fats with unsaturated fats may help lower cholesterol levels and the risk of heart disease. So, instead of cheese, add a few slices of avocado to your sandwich.
Rich in Phytochemicals
It's not just the fat in the avocado that's good for your heart, but the fruit is also rich in phytochemicals. These plant-based nutrients may be the reason people who eat more fruit and vegetables have lower rates of chronic illness.
The carotenoids, which are the most abundant phytochemicals found in avocados, not only protect your heart but may also protect your DNA against damage, which may decrease your rate of aging. Avocados are also one of the richest fruit source of phytosterols, which are nutrients in plants that help lower cholesterol .
Helpful for Weight Control
Fruits and vegetables are an important part of a weight-loss diet because they help fill you up with fewer calories. While avocados are higher in calories than most fruits -- half of an avocado has about 160 calories -- it's still a fairly filling food, according to 2013 article published in "Critical Reviews on Food Science and Nutrition."
It's also high in fiber, with about 7 grams in the same serving, which helps you feel full and satisfied. Some preliminary studies show the avocado may help you manage your weight, according to the authors of the article in "Critical Reviews on Food Science and Nutrition."
Reduce Risk of Metabolic Syndrome
Metabolic syndrome is a culmination of symptoms that increases the risk of cardiovascular disease. In order to be diagnosed, a person must have three of the five symptoms, which consist of abdominal obesity, elevated blood pressure, elevated blood sugar, elevated triglycerides and low levels of high-density lipoprotein, or "good" cholesterol. According to a 2013 study published in "Nutrition Journal," people who eat more avocados not only enjoy better health overall but are also at a lower risk of developing metabolic syndrome.