Neck and shoulder pain can be the result of sleeping in an awkward position or from the trauma of an accident suffered by the neck or shoulders. Some cases of neck and shoulder pain can be treated at home, but more serious cases should be seen by a doctor.
Minor Pain
There are several causes of neck and shoulder pain that are not serious, and the pain will normally resolve after a short period. Poor posture while standing or sitting can result in pain, and lifting or doing other strenuous forms of activity can also result in neck and shoulder pain. One of the ways to differentiate serious neck and shoulder pain from temporary discomfort is to try to touch your chin to your chest. If you are able to touch your chin to your chest with some discomfort, more than likely the pain is temporary and will dissipate. If you are unable to touch your chin to your chest due to the extreme pain involved with the motion, this could be the first symptom of something more serious, and you should see your doctor immediately.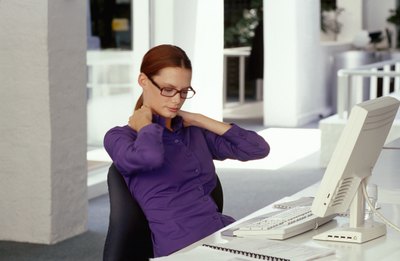 Spine Damage
In some cases neck and shoulder pain is caused by damage to the discs of the spine or the natural degeneration of the disc material. Trauma to the neck or shoulders can cause a disc to protrude out from the spine and contact the nerves that run along the neck and down the shoulder. This can cause a burning or tingling pain, and it could eventually lead to numbness in the shoulder.
The degeneration of disc material in the neck as a person ages also causes the disc to protrude out from the spine and make contact with the nerves, causing severe neck and shoulder pain.
Tendonitis
Neck and shoulder pain can also result from tendonitis, which is an aggravation of the tendons in the shoulder caused by a repeated motion over a long period. This is common in athletes who make regular overhead motions, such as tennis players or baseball pitchers.
In some cases, neck and shoulder pain could be the result of trauma from a shoulder dislocation or from the breaking of the collarbone or the upper arm.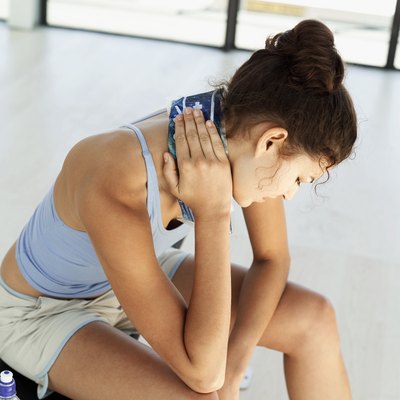 Symptoms
Some of the more prominent symptoms of neck and shoulder damage aside from pain is a numbness in the arm, an inability to move the head from side to side, an inability to look straight up, a discoloration in the skin around the shoulder, and swelling either in the shoulder or at the base of the neck.
Treatment
According to the Cleveland Clinic, the best way to treat minor shoulder and neck pain is to take an anti-inflammatory over-the-counter medication and then apply an alternating regimen of heat and cold to the spot that is causing the pain.
In instances involving nerve damage or some other more serious medical condition, it may be necessary to use surgical techniques to relieve the pain and repair any damage.