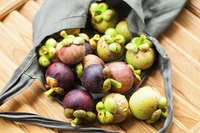 Beneath the deep purple, leathery skin of the mangosteen fruit lie pearly white segments with a sweet, delicate flavor. The mangosteen fruit hails from Asia and is acclaimed for its rich antioxidant content. You may find the fruit in some grocery stores and ethnic markets or in puree, juice, dried, powdered or supplement form at health food stores.
Anti-Cancer Fruit
Mangosteen is a particularly good source of a type of antioxidant called xanthones. The pharmacological properties of xanthones are extensive. They act as anti-inflammatory, anti-bacterial, anti-viral, anti-fungal and anti-allergenic agents. Perhaps the most exciting potential of the mangosteen fruit is as a chemopreventive agent. A study published in Current Molecular Medicine in 2011 suggested that the xanthones might intervene in several stages of the progression of cancer including tumor cell division, inflammation and metastasis. Another study published in the Journal of Ethnopharmacology found that crude methanolic extract from mangosteen may inhibit the proliferation of human breast cancer cells. However, more research is needed. Do not take any dietary supplements without first consulting your physician.
Eating Mangosteen
Use a knife to peel away the rind to eat mangosteen. Enjoy the white, fleshy segments, but do not eat the seeds or rind. In addition to antioxidants, mangosteen is also a good source of calcium, fiber and iron.