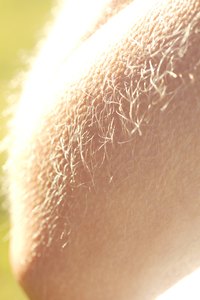 Goosebumps and chills are usually a reaction to a certain situation your body is experiencing. Goosebumps begin when tiny muscles in your skin are forced to contract, which raises the hair on your skin. This causes little bumps on your skin. Chills also result from the muscle contractions. There are different scenarios that can cause goosebumps and chills.
Cold Environment
One factor that causes goosebumps and chills is the body's response to cold temperatures. The body reacts by insulating itself; these small bumps and shivering are simply by-products of the body working to prevent hypothermia.

Adrenaline
Goosebumps and chills are sometimes part of your nervous system's "fight or flight" response. Adrenaline production is significantly increased in this type of scary or anxious situation. The muscles attached to the hairs on your skin contract in response to the adrenaline boost, causing bumps, chills and your hair to stand straight up.

Infection
Feeling chilled or the presence of goosebumps for no known reason could be a sign of an infection building in your body. This could lead to a number of illnesses---it is important to stay healthy during this time to help your body fight the infection properly. Drink fluids and get plenty of fluids to help stay well.

Skin Irritation
Irritated skin can sometimes create an involuntary muscle contraction that raises the hair on your body, causing goosebumps to form. This is a reflex mechanism used to make you aware there is a problem within your skin.

Fever
Often, the feeling of goosebumps and chills go hand in hand with a fever. This is especially true if an infection is pending. Your body will heat itself to help battle the bacteria causing the infection; your goosebumps and chills will be apparent as with the rise in temperature.