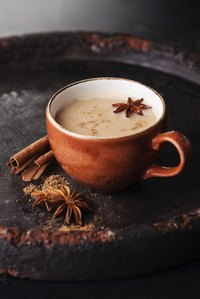 Typically made with milk, chai tea is a mixture of black tea with a variety of spices, including ginger, cardamom, black pepper, fennel and cinnamon. The tea not only helps you meet your calcium needs, but is also rich in antioxidants and may be soothing to your tummy.
Source of Bone-Building Nutrients
Traditional chai tea is made with milk and water in a ratio of 1-to-1 when using nonfat milk. That means your tea is rich in bone-building calcium and vitamin D, meeting 15 percent of the daily value for calcium and 10 percent of the daily value for vitamin D in 1 cup of tea. Calcium is essential to improve the density and strength of your bones, while vitamin D helps your body absorb calcium.
Rich in Phytochemicals
The tea and spices used to make chai boost your intake of phytochemicals, which are potentially health-promoting nutrients. For example, black tea is a source of catechins, cardamom contains eucalyptol and d-limonene, and cinnamon is a source of cinnamyl acetate and trans-cinnamaldehyde. While the research is very new, the phytochemicals found in the tea and spices may help reduce inflammation and offer protection against cancer and heart disease.
Tummy Soother
As a source of ginger, a cup of chai tea may help you manage stomach issues such as nausea, vomiting or gas. The phytochemical gingerol may soothe your stomach by stimulating saliva, bile and gastric juices to help improve digestion. The ginger in the tea may increase stomach emptying, which may also ease discomfort.
Serving Tips
Some coffee shop versions of chai tea are high in calories and fat. When ordering your tea out, ask for it to be made with nonfat milk and without added sugar. If you can't tolerate cow's milk, you can use a plant-based milk alternative instead. To get the bone-building benefits, use a brand fortified with calcium and vitamin D. The spices in the tea lend a natural sweetness, so you may be able to drink it without adding any sweeteners, saving unnecessary calories.