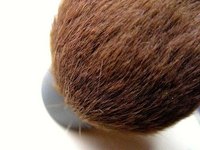 The popularity of mineral makeup has driven a corresponding increase in popularity of a type of makeup brush called kabuki. Originating in Japan, kabuki brushes were used by actors and geishas, or professional hostesses.
Materials
A kabuki brush is made up of soft, densely packed bristles, usually in a dome shape. Traditionally, the brush bristles were made from animal hair and many are still created and sold from these sources. There are many types of animal hair that can be made into makeup brushes, and many different grades within a type of animal hair. Most natural kabuki brushes are made from goat's hair. According to Mineral Makeup Reviews, brushes can be made with a single type or a mixture of animal hair. Hair tends to have minute scales, which allow the powdered makeup to adhere to the brush before being deposited on the skin. However, kabuki brushes can also be made of synthetic materials, such as nylon or taklon, to mimic the properties of animal hair bristles.
Function
Kabuki brushes are a type of cosmetic brush and are used to apply makeup, particularly mineral foundations and blushes, according to KabukiMakeupBrush.com. The brush is dipped into the makeup, the excess is removed by tapping the brush handle and the brush is rubbed against the face in a circular motion, depositing the makeup on the skin. The kabuki brush's shape is considered superior to other flatter brushes for certain types of makeup application, including foundation and blushes.
Types
The bristles of a kabuki brush are always soft and arranged in a dome shape, but the bristles can be of varying lengths, depending on the type of makeup for which the brush is intended.
Care and Storage
Clean the kabuki brush after each use by tapping out any excess pigment or powder. The brushes can be washed in a mild soap and water and thoroughly rinsed. Dry the cleaned brushes horizontally to avoid bending the bristles.
Name
Kabuki brushes are named for a traditional Japanese form of theater. Kabuki plays are about historical events and moral conflicts, according to Japan-Guide.com. Kabuki brushes were first used by actors in such plays.